Easy Homemade Turkey Chili With Bell Peppers
The quintessential fall dinner for me will always be homemade chili. It's hearty and comforting and reminds me of chilly, rainy nights at home before the hubbub of the holiday season begins. In my experience, everyone has a go-to chili recipe, and this Easy Homemade Turkey Chili with Bell Peppers is inspired by those autumn nights at home, especially from when I was young.
Full disclosure, this is basically my mom's recipe with a few tweaks here and there. The addition of a good number of chopped bell peppers and a little extra spice sets this recipe apart from others. It's comfort food personified, and it's pretty darn healthy without any modifications. If you're strict paleo and going without legumes, of course you can take out the beans. And if you're going without dairy, you don't need to add a bunch of cheese or sour cream on top. It's a pretty perfect bowl of chili without doing anything to it. (I also won't deny that a bowl of chili with melted cheddar cheese on top is a glorious thing.)
And at the end of a long day, this is the chili I want to eat for dinner. Over the years, I've learned that there are few more nostalgia-inciting things than the taste and smell of home-cooked food from childhood. So make this chili on a cold autumn night, and then spend the rest of the evening basking in the joys and quietness of a much simpler time. Trust me, this chili is the answer.
the process
If you skip ahead to the recipe portion of this blog post, you'll notice something unusual about this turkey chili. Oh hey, there's beef in this turkey chili! It's not a typo. There's about a half pound of beef in this recipe, because it adds a lovely flavor and a little bit of fat that you don't get when you just use turkey. And it's still pretty lean and mean (especially when you realize how much chili you're getting out of one recipe). All that to say, if you're really steering clear of red meat, you can use two pounds of turkey, and you'll be just fine.
One tip about this Easy Homemade Turkey Chili recipe: Follow the order of ingredients. I don't always emphasize this, because there are certainly times when I'm throwing together dinner, and I don't really care if the tomatoes go in before the beans. But in this case, you DO want to make sure the tomatoes go in before the beans. Everything in this chili should basically be cooked and good to go before you add the beans. It's a texture thing. When you use canned beans, they have a tendency to get a bit soggy or fall apart if you cook them too long. Therefore, you will need to add the beans at the end.
Last tip for this magical Easy Homemade Turkey Chili With Bell Peppers: Serve it with cornbread and honey butter. I recommend using Bob's Red Mill Gluten-Free Cornbread Mix because it tastes like real, honest-to-goodness cornbread without the wheat. Then, make your own honey butter by mixing softened Kerrygold butter with a couple tablespoons of honey in a glass dish. Serve with a spoon. Easy-peasy. Also, you can (and should) include a bunch of toppings on the side (e.g., cheese, sour cream, jalapeños, etc.) as part of the deliciousness. It's a pretty great option for dinner with friends and family, because really, who doesn't like chili?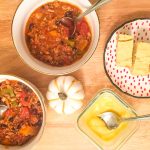 Easy Homemade Turkey Chili With Bell Peppers
Servings
8
-10 medium-sized bowls
Ingredients
1/2

large yellow onion

diced

1/2

green bell pepper

diced

1/2

yellow or orange bell pepper

diced

1

tbsp

coconut oil

refined, unflavored

1 1/2

lbs

ground turkey

1/2

lb

ground beef

3 15

oz

cans diced tomatoes

1 8

oz

can tomato paste

1

tsp

tabasco or hot sauce of your choice

1/4

cup

chili powder

1-2

tbsp

cumin

1

tbsp

cayenne pepper

1 1/2

tbsp

paprika

1

tsp

garlic powder

1

tbsp

sea salt

1

tbsp

black pepper

1 15

oz

can black beans

drained

1 15

oz

can Great Northern beans

drained
Instructions
In a dutch oven or large pot, saute onion and bell pepper in coconut oil over Medium-High heat

When pepper and onion are slightly cooked, add ground turkey and ground beef and saute together

When meat is mostly cooked through and very little pink remains, reduce heat to Medium and add canned tomatoes, paste, and hot sauce; stir together

Add all spices, and adjust accordingly to taste preferences

Cover pot and cook over Low-Medium heat for 10 minutes

Uncover pot and add beans to mixture, stir and cook over Low-Medium heat for 10 minutes

Serve in large bowls with toppings of your choice and cornbread on the side. Bask in the deliciousness of fall.