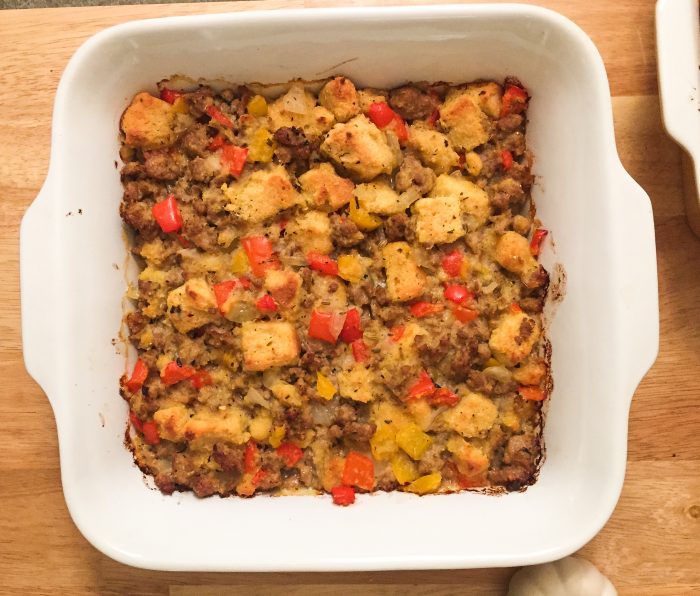 Gluten-Free Italian Sausage and Cornbread Stuffing
Thanksgiving turkey is great and all, but if you were anything like me growing up (aka little Debbie, lover of all things where bread is involved), the stuffing is really where it's at. And this Gluten-Free Italian Sausage and Cornbread Stuffing is the perfect melding of all those delicious Thanksgiving flavors, in an allergen-friendly package that you can feel pretty good about. It may not be perfect paleo or stocked full of nutrients, but it's the holidays. And splurging on a tasty, gluten-free stuffing option is well worth it.
The ingredients in this recipe are absurdly simple. I find that a lot of holiday recipes tend to get too complicated and require way too many ingredients. I totally get that the holidays are the time to dust off your baking and cooking skills and make impressive side dishes, desserts, and main courses. But busy people also tend to get even busier during the holidays. And from personal experience, I like to take a couple shortcuts to make life a little easier during this crazy (often stressful) time of year. So in terms of ingredients, the only really unique piece to this delicious Gluten-Free Italian Sausage and Cornbread Stuffing is the cornbread cubes.
I like to make Bob's Red Mill Gluten-free Cornbread a couple days in advance because it's so darn easy (have you made brownies from a mix before? It's that easy). But if you find a ready-made gluten-free cornbread (or regular old junk-free cornbread) that you want to use for the cubes, go for it! As for the other ingredients, you may already have an onion and a few bell peppers in your produce drawer. And if you're anything like me, you'll always have sausage in your freezer. If that's the case, that means you can avoid one more trip to the grocery store.
On another note, the scent of sausage, peppers, and onion cooking together is one of the best kitchen scents in the whole world. Man, it's good. If you want to make your kitchen smell like Thanksgiving without cooking an entire turkey, this will do it.
the process
As I mentioned above, the only extra step involved in this easy Gluten-Free Italian Sausage and Cornbread Stuffing is making the cornbread, which is super simple. I've made it multiple times and haven't messed it up once. After you make the cornbread and let it cool, you'll want to cut it into cubes and store in a plastic bag until you're ready to use. I typically do this a couple days in advance, but if you wait any longer than that, I would make sure to store the cornbread in your fridge. Because who wants to eat moldy cornbread stuffing?
Here's another helpful tip to remember. When you add the cornbread to your sausage, onion, and chicken broth mixture on the stove, you'll want to gently fold in the cubes. I know it's tempting to throw caution to the wind and just start stirring like crazy (because you've got to get all that holiday stress out somewhere!), but cornbread can be a little more fragile than your standard loaf of bread. So be careful when you toss in those little cubes.
Lastly, if you make this ahead of time, you'll want to reheat this is an oven if at all possible. Texture is everything, and having that crispy, browned layer on top is key. But don't get me wrong, leftover microwaved stuffing has its own charm. Especially when it's next to a turkey sandwich with a little mayo and cranberry sauce. Happy Thanksgiving, friends.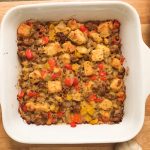 Gluten-Free Italian Sausage and Cornbread Stuffing
Ingredients
1/2

large onion

chopped

3-4

medium-sized bell peppers

chopped

6

medium-sized mild Italian sausages

casings removed

2

cups

chicken stock

6

cups

dry cornbread cubes

2

tbsp

fennel seed

1

tsp

garlic powder

1

tbsp

dried basil

Salt and pepper

to taste
Instructions
Preheat oven to 400 degrees

Sauté onion and bell pepper over Medium heat in a large skillet or fry pan

Add sausage and break it up with a spoon or spatula

Cook until sausage no longer appears pink

Add chicken stock and seasonings and reduce heat to Low

Gently fold in cornbread cubes until all ingredients are dispersed evenly

Add stuffing to a large casserole dish and bake for 30 minutes

Serve immediately or store in fridge and reheat in oven