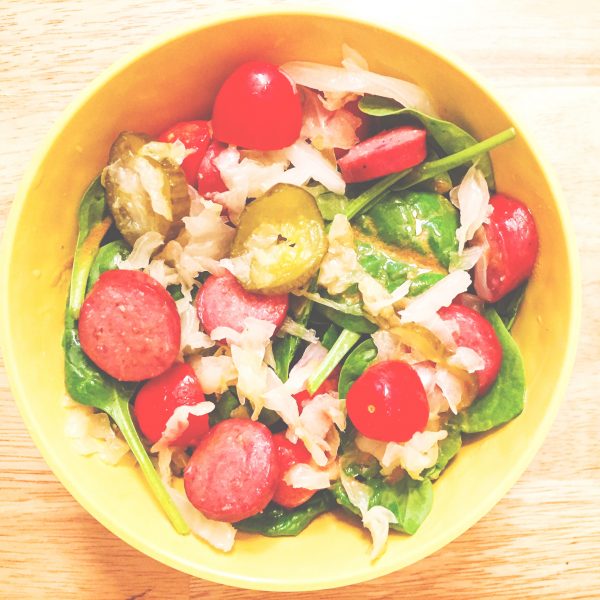 Hot Dog Salad (w/ Ketchup & Mustard Vinaigrette)
All the joys of baseball games and family barbecues, in a healthy little salad.
Don't get me wrong. I love trying new cooking techniques, making new sauces, testing unique spices, and eating lots of different vegetables and nutrient-dense proteins. But I don't always have time for that. And more importantly, sometimes I just want a HOT DOG. You've been there, right?
And if you're anywhere on the paleo, gluten-free, low-carb, or ketogenic spectrum, you may have tried eating a hot dog in a lettuce wrap, without a bun, or with a gluten-free bun of some kind. But until you've tried a hot dog salad with a delicious ketchup and mustard vinaigrette (don't scoff just yet), you haven't experienced its full flavor potential (and ease of eating, because let's face it, lettuce wraps can get pretty messy depending on the number of toppings you like).
So try a hot dog salad, and thank me later. Because it's quick, easy, delicious, and a real crowd-pleaser.
the process
Making a hot dog salad is easy as pie (which is a ridiculous saying because making a legitimate homemade pie is TOUGH. Pie crust is my mortal enemy.). The trick here is to slice your hot dogs first and then throw them in the pan. This browns them nicely and evenly. You can add a little ghee or coconut oil to start them off, but for most fattier or cured meats (like hot dogs, sausage, or bacon), I just heat them up sans oil.
Assembling the salad is up to you. I typically add a lot of kraut and pickles (because my heritage is Austrian, and I LIVE for that stuff), but you can go lighter on the pickles/kraut.
And when you can, I recommend using 100% grass-fed beef. It makes a huge difference.
Hot Dog Salad (with Ketchup & Mustard Vinaigrette)
Ingredients
4

grass-fed beef hot dogs

I recommend Teton Waters Ranch

1

bag dark leafy greens or spinach

1

cup

grape tomatoes

sliced in half

Sauerkraut

Sliced pickles or relish
*Ketchup & Mustard Vinaigrette*
2

tbsp

organic ketchup

2

tbsp

organic dijon mustard

1/3

cup

olive oil

Juice from 1 lemon

I've also subbed apple cider vinegar - you just need some kind of acid

Salt & Pepper

to taste
Instructions
Cut beef links into ½ inch slices

Sauté over medium-low heat, flipping occasionally. You can add ghee or coconut oil to the pan, but it's not necessary

While links are heating, make vinaigrette: whisk all ingredients together or combine in a mason jar and shake

Assemble salad with greens, tomatoes, and links. Drizzle on vinaigrette.

Top with sauerkraut and pickles or relish (or all of the above, which in my case is completely true)