Simple Lemon and Dijon Mustard Chicken
Everyone need a simple chicken recipe in their arsenal that fulfills three requirements: easy, few ingredients, and SUPER tasty. I've been making this Simple Lemon and Dijon Mustard Chicken for years now; it's my go-to when I want to have a healthy, homemade dinner that's comforting and delicious, but I don't have much in my fridge.
In fact, aside from the chicken itself and salt and pepper, the only ingredients you need to make this recipe are dijon mustard, lemons, and butter. THAT'S IT.
No, seriously. That's it.
the process
After making my share of chicken breasts over the last 10 years or so (my post-college meal of choice next to Americanos with half and half), I've learned a few things about cooking chicken based on trial and error. And let me just take a moment to say, bone-dry chicken is the absolute WORST. May the chicken I made in 2009 rest in peace.
So here's the basic process:
Always start your chicken in a sizzling dutch oven (or skillet), and sear on each side for 2-3 minutes. You'll see some rawness still, but don't let that scare you. For this Lemon and Dijon Mustard Chicken, you'll want to rub the mustard, salt and pepper on it first and then sear it pretty thoroughly.
After you sear it, add your lemon juice to the chicken, lower heat to Low-Medium and cover. That lemon juice will act as a liquid that will help get your chicken moist while it's cooking slowly over the low heat. Covering your chicken while it cooks and adding a liquid (like lemon or chicken stock) is KEY to getting a juicy piece of chicken. This process should be about 15 minutes, but remember kids, stovetop temperatures are not universal. Use your best judgment here if it seems too short or too long for your particular stovetop. Make this recipe YOURS.
Finally, I recommend serving this with a good vegetable that holds up to sauce, like the green beans I used here. Add some lightly sautéed veggies to the leftover pan sauce (once you've taken your chicken out and let it rest) and cook them in that deliciousness for a couple of minutes for a nice and easy addition to your plate. You're welcome.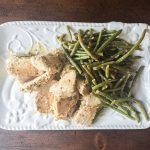 Simple Lemon and Dijon Mustard Chicken
Ingredients
1.5

lbs

3-4 boneless, skinless chicken breasts (organic if possible)

2

tbsp

dijon or grainy mustard

without any added sugar or additives

Salt & pepper

1

tbsp

good quality butter

Kerrygold is my favorite

Juice from 2 large lemons

Green beans
Instructions
Rub chicken breasts with the dijon mustard on both sides (TIP: I've added the chicken breasts to a Ziploc bag and then tossed them in the mustard that way, but rubbing them by hand is fine)

Salt and pepper both sides of chicken

Heat butter in dutch oven (or skillet) over Medium to Medium-High heat

Once butter is sizzling a bit, add chicken and sear on Medium-High for 2-3 minutes on each side

Lower heat to Low-Medium, and add lemon juice over the chicken

Cover dutch oven or skillet with lid and cook over Low-Medium heat for 12-15 minutes (depending on the thickness of the chicken breasts and the heat of your stovetop)

Once the chicken breasts have cooked through, take them out and cover with foil for about 5 minutes to rest. Slice chicken breasts diagonally, and drizzle lemon-dijon pan "sauce" over them

Serve with sautéed green beans (TIP: After quickly sautéing, add them to the remaining dijon-lemon sauce in dutch oven, and then season with salt and pepper)