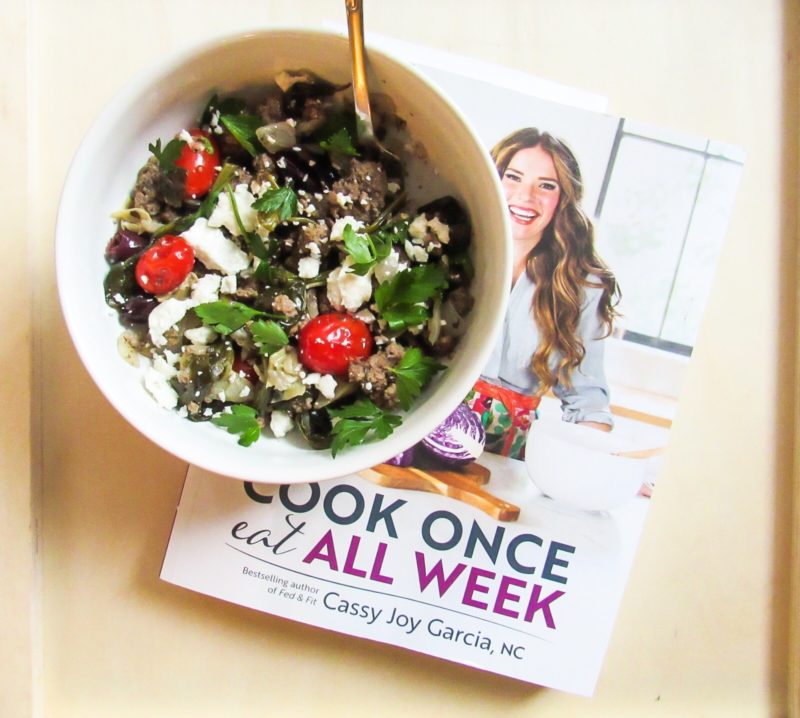 EK Cookbook Review: Cook Once Eat All Week by Cassy Joy Garcia
Meal prep has gotten way too complicated and tedious for its own good. For something that's supposed to make life a lot easier, like most things, it's gotten out of hand.
For the above reasons (and because my whole Edited Kitchen philosophy is to keep things SIMPLE and EASY for busy people), I adore Cassy Joy Garcia's latest book, Cook Once Eat All Week. This is a breakthrough in "meal prep" that keeps things simple, inexpensive, convenient and tasty as all get-out.
Here's the concept: Cassy Joy provides a meal plan for the whole week that includes a simple protein, veggies and starch (don't let this scare you if you're a low-carber like me, the starch can be easily modified or substituted in most cases). However, instead of making every single item in advance (and consequently, getting bored with 10 tupperware containers full of the same meal), you prep a few simple ingredients and then throw together each meal in about 15 to 20 minutes.
As a working adult with plenty of other life stuff that overwhelms me at times, having a simple meal solution is HUGE. Decision fatigue is also something that I deal with on a pretty consistent basis, so having an easy and simple method of making a few dinners (and having those leftovers for lunches) makes life that much better.
All that to say, it's pretty revolutionary, and it's also incredibly delicious. I was sold from the minute I tried Week 1 of the bonus preorder recipes and got to eat a curry chicken sheet pan dinner, BBQ chicken casserole, and citrus chicken fajitas.
"Cook once eat all week" in action
Let me take you through Week 15. (And note that if you are a low-carber or stick to a Keto-type lifestyle, Week 15 is going to be your JAM.)
First off, this method is not expensive. Cassy Joy chooses ingredients that are easy to come by and 100% budget-friendly. Week 15 includes spaghetti squash, spinach, artichoke hearts, ground beef and handful of other staples that ended up costing me about $50 total. I generally cook for two people, so I had plenty of leftovers that I could take for lunch the next day. I'm a big advocate of repurposing leftovers, so this was a big upside for me.
The first meal was the Bolognese Casserole, and I created two of this one. I intentionally used more of the ground beef on this guy so that I could make a second one for a good friend who just had a baby. Two meals and 4 people, done. I make some form of bolognese pretty frequently, so this wasn't much of a diversion from my regular dinners. But Cassy Joy's version definitely takes it to another level. Topped with feta goat cheese, it was a massive win.
Second meal was a Mediterranean Skillet, which I'm pretty sure was designed to incorporate every single ingredient that I love. Artichokes? Check. Feta cheese? Check. Kalamata olives? Check. This one was delicious and perfect for eating for lunch the next day. (Sorry coworkers, you can't have any.) I got about 4 single-sized meals out of this one.
Last, but not least, the Spinach Pesto Spaghetti Squash Boats. These came together so easily because the spaghetti squash was already prepped on day 1 (sidenote: I always make my spaghetti squash in the Instant Pot for a crazy quick cooking time). And since you were asking, I did indeed have leftover meatballs and pesto left, which happily made it to the work lunch roster.
In a nutshell, this is a simple, inexpensive and tasty meal prep method that actually works. And a philosophy I can 100% get behind. Five out of five gold stars, thumbs-ups and all the high-fives for making meal prep a whole lot easier. If you're interested in grabbing yourself a copy (at this point, why wouldn't you be?), check out Cassy Joy's Amazon page for more info: https://fedandfit.com/cookoncebook