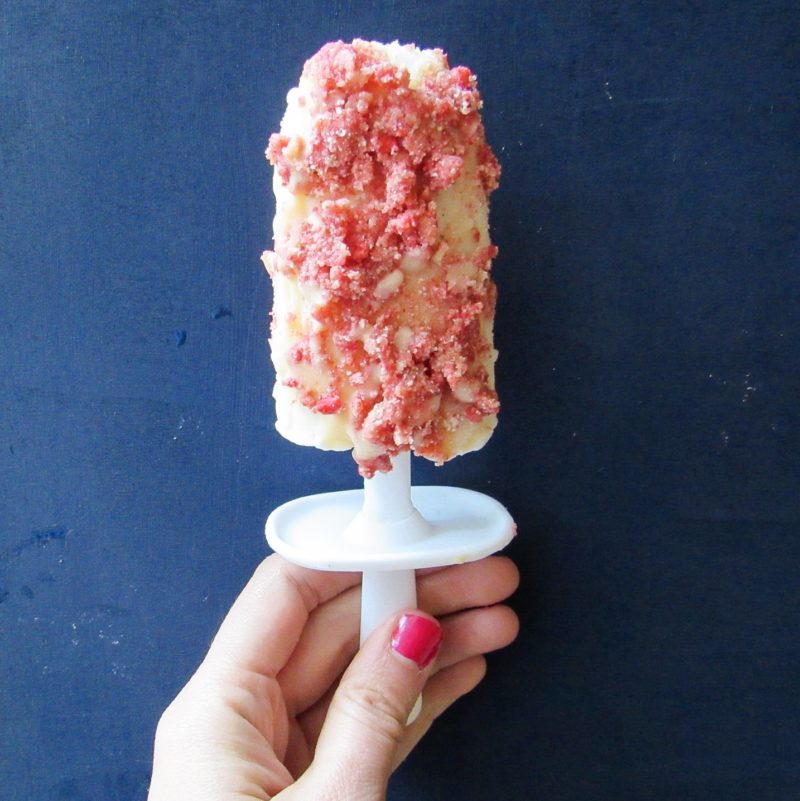 Keto Strawberry Shortcake Ice Cream Bars
What was your favorite "ice cream truck" treat as a kid?
Choco tacos? Rocket pops? Teenage Mutant Ninja Turtle bars?
Without a doubt, my all-time favorite ice cream truck treat was a Strawberry Shortcake bar. Do you remember the ones with the shortcake coating, vanilla ice cream and the strawberry goodness inside? That was my JAM as a kid. While I may have initially been drawn to the ice cream bars because they were pink, I also loved anything that was strawberry flavored. And when you add a buttery, crumbly cake topping? I'm ALL in.
So naturally, I had to come up with a low-carb, gluten-free and no refined sugar alternative to pay homage to my childhood: Keto Strawberry Shortcake Ice Cream Bars. With a creamy vanilla coconut-based ice cream and a buttery, crumbly strawberry topping, you can feel really good about these nostalgic ice cream truck treats again.
Like many of my recipes, this one involves a shortcut. No homemade ice cream went into the making of these bars. Instead, I found an amazing low-carb AND dairy-free option to use as the base: SO Delicious' No Sugar Added Vanilla Bean Coconut Milk ice cream. I've included details on this "ice cream" and the other recipe ingredients below.
The topping on these Keto Strawberry Shortcake Ice Cream Bars is pretty magical as well and very reminiscent of those addictive strawberry shortcake bars. The secret is a nice combination of freeze-dried strawberries (pulsed in a spice grinder), almond flour, Lakanto's golden monkfruit sweetener and Evolved coconut butter. That means these are 100% dairy-free, grain-free and refined sugar-free. Don't let that scare you though. They are also 100% tasty.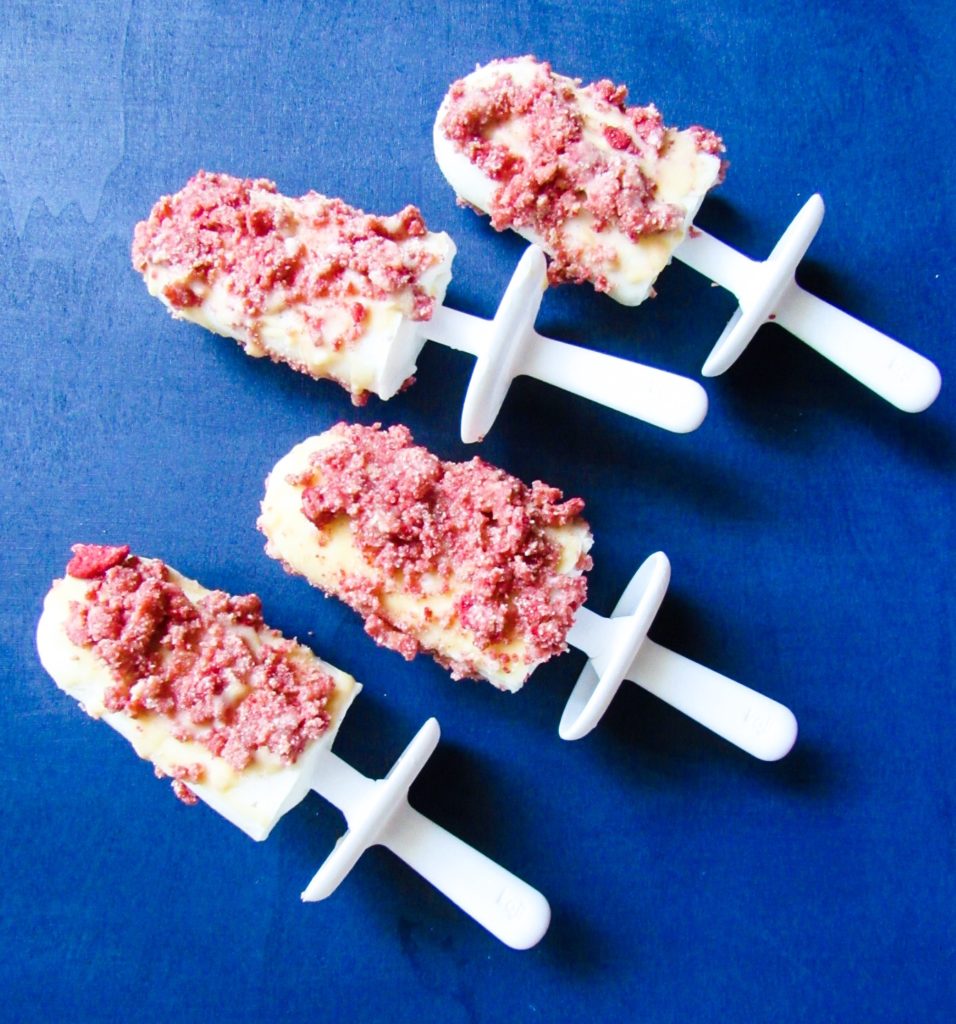 the process
As hinted at before, these bars come together easily, with just a few ingredients. The "labor-intensive" portion (putting the glaze and topping on) isn't really laborious at all, just a little tricky.
In case you didn't know, coconut oil and coconut butter harden QUICKLY. So when you start glazing your popsicle, you'll want to get the topping on ASAP. How do you do that? I like to spoon the glaze on one side at a time (instead of immersing the entire bar), and then add the topping to each side of the popsicle, by dipping and spooning over. It will take a little bit longer, but it will get the job done.
A couple quick tips for the almost magical strawberry/almond flour/coconut butter topping. For the ground strawberries, I recommend using a spice grinder (my favorite is linked below). It's the perfect size and takes about 5 seconds to get to the right consistency (it should be the same consistency as your almond flour). Make sure you set aside a handful of the strawberries (about 2 tablespoons) to crumble and add a bit more texture to the pops.
the products
Here are the ingredients and products I used for this recipe along with the links for more information (and where to buy):
the recipe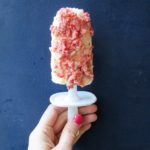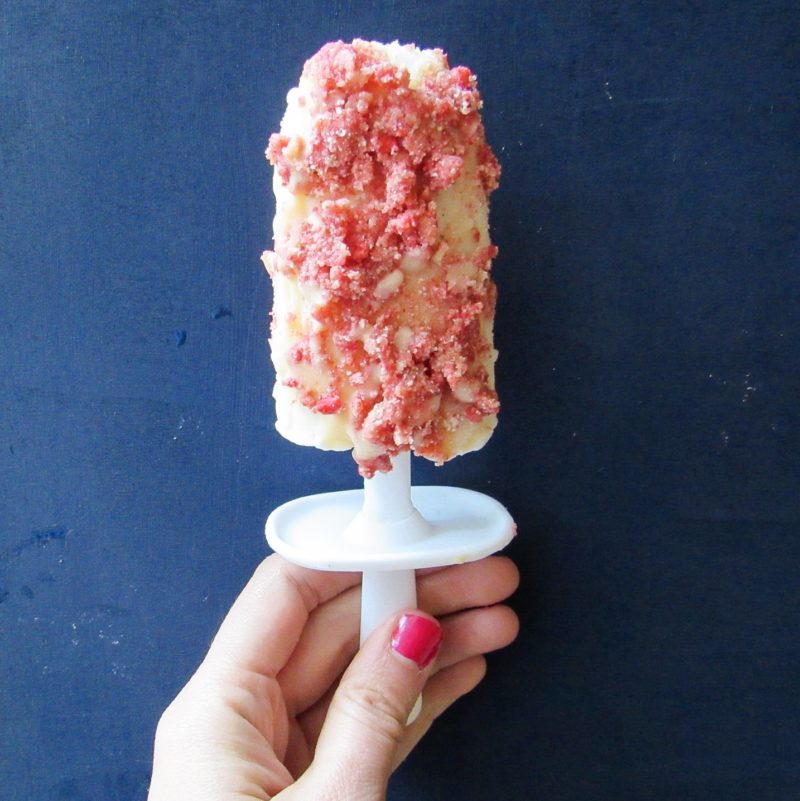 Keto Strawberry Shortcake Ice Cream Bars
Just like the strawberry shortcake bars you had as a kid, but grain-free, dairy-free, and with no refined sugar.
Ingredients
1

pint

So Delicious No Sugar Added Vanilla Bean Coconutmilk Frozen Dessert

You may also sub for another vanilla-flavored ice cream.
For the crumble topping
1/4

cup

freeze-dried strawberries, ground

2

tbsp

freeze-dried strawberries, crumbled

1/4

cup

almond flour

3

tbsp

unsweetened coconut butter, melted

I use Evolved brand

1

tbsp

golden monkfruit sweetener

1

tsp

vanilla extract
For the glaze
2

tbsp

coconut butter, melted

2

tbsp

coconut oil, melted
Instructions
For bars
Soften ice cream and spoon into popsicle molds. Leave in freezer for 3 hours to overnight (until frozen completely).

Once frozen, pop out popsicles by running under warm water and place on a parchment paper-lined tray. Store in freezer until topping and glaze are done.
For crumble topping
Mix together strawberries, almond flour, monkfruit sweetener, vanilla, and coconut butter until thoroughly combined (texture should resemble wet sand).
For glaze
Melt together coconut oil and coconut butter.
For assembly
To coat the popsicles, spoon or drizzle glaze over each popsicle (one at a time). Then, sprinkle coating on top of the glaze (glaze will harden quickly, so act fast!)

Once all popsicles are coated, place back on parchment paper-lined tray and freeze until ready to eat.