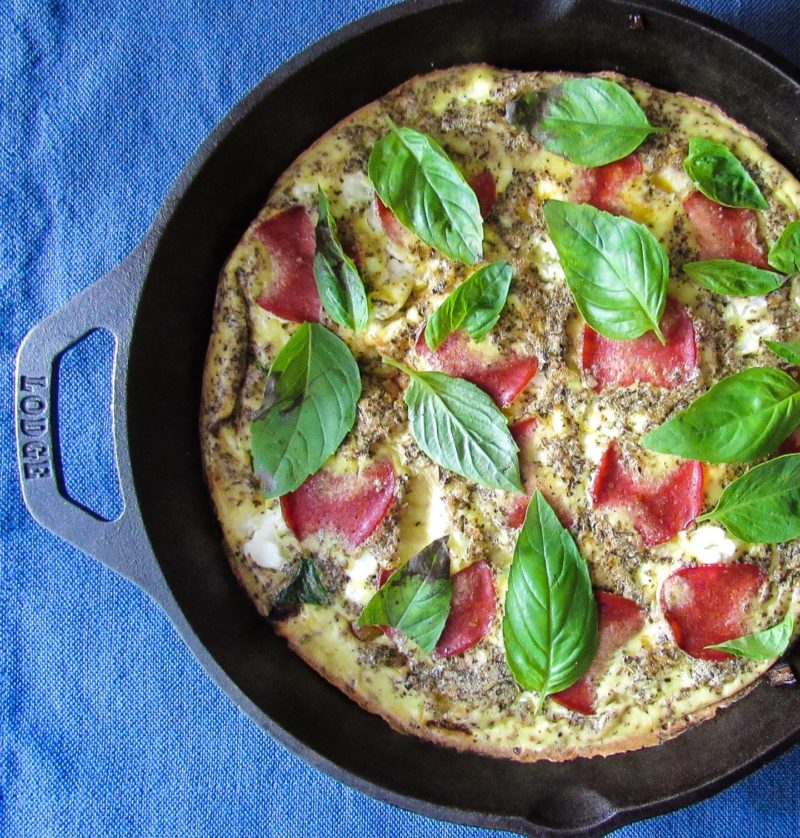 Pepperoni, Basil and Goat Cheese Frittata
I'm pretty convinced that part of my purpose in life is to create healthy vehicles for pizza. Here's my philosophy. Healthy people are pretty happy, and pizza makes people really happy. So healthy pizza is happiness fuel. Thus, why I created Pizza Chicken, Baked Margherita Pizza Eggs and Zucchini Pizza Casserole. The only question is, why did it take me so long to make a pizza frittata?!
This Pepperoni, Basil, and Goat Cheese Frittata is the kind of breakfast you will look forward to eating in the morning. Or at night, or for leftovers you eat at lunch. I highly endorse eating eggs at any point in the day, so you don't have to convince me. One of the best parts of a frittata is the fact that it holds up really nicely in your fridge for a few days. So you can certainly bring it to work with you for a protein-packed lunch. Or take it with you in the morning for an on-the-go breakfast.
This frittata doesn't just taste like pizza, it's also low carb, grain-free, can easily be dairy-free. Plus, it's loaded with veggies, like spinach and bell peppers (two that I always have on hand).
But if you don't like spinach or bell peppers (I mean it's a stretch, but hey, everyone has opinions), you can use your favorite veggies instead. Like any good frittata, you can customize it to fit your preferences (and options in your fridge). Don't have fresh basil? Use dried basil or oregano. Don't like goat cheese? Use shredded mozzarella or crumbled feta. As long as it tastes like pizza, I'm on board.
the process
Don't let the fancy word "frittata" scare you. Is the word "frittata" fancy? I've always thought it was, but now I'm doubting myself. Regardless, no matter how fancy it sounds a frittata is one of the easiest dishes to make. If you've made eggs, you can make a frittata. You just need to remember to throw it in the oven after you get all of your ingredients together. And one of the biggest benefits to a frittata (which strikes a ch is that you use one pan and a bowl to make it. Fewer dishes = a happier morning/afternoon/night for me.
The process is similar to most meals I make. Heat up a pan, sauté aromatics (e.g., onion or garlic), add veggies, add protein and finish. Only with this one, you add eggs and then top with pepperoni (I recommend Applegate's uncured pepperoni, because it's the very best) and goat cheese (which I would gladly top every meal with if it was socially acceptable) and bake. That's it. Pretty great, right? Three cheers for pizza frittata.
Pepperoni, Basil, and Goat Cheese Frittata
An easy and flavorful frittata that tastes like pizza. What more could you ask for?
Ingredients
1

tbsp

avocado oil

(enough to coat the pan)

1/2

cup

diced onions

1/2

cup

diced bell peppers

8-10

sliced cherry tomatoes

2

cups

spinach

8

eggs

1/4

cup

heavy cream or half and half

(sub with coconut milk if dairy free)

2

tbsp

Italian seasoning

1-2

tsp

salt

(to taste)

1/4

cup

crumbled goat cheese

10-12

slices

Applegate uncured pepperoni

Fresh basil

(for topping)
Instructions
Preheat oven to 375 degrees Fahrenheit

Heat avocado oil in a heavy oven-proof or cast iron skillet. Sauté onions, bell peppers and tomatoes over medium heat until softened and slightly browned, then add spinach and mix in until wilted.

While veggies are cooking, whisk together eggs, cream and all seasonings.

Pour eggs over veggies and sprinkle goat cheese and pepperoni on top evenly.

Bake skillet in oven for 15 minutes, until it begins to puff up (it will settle and flatten out, don't worry).

Cut into 8 slices and serve immediately.