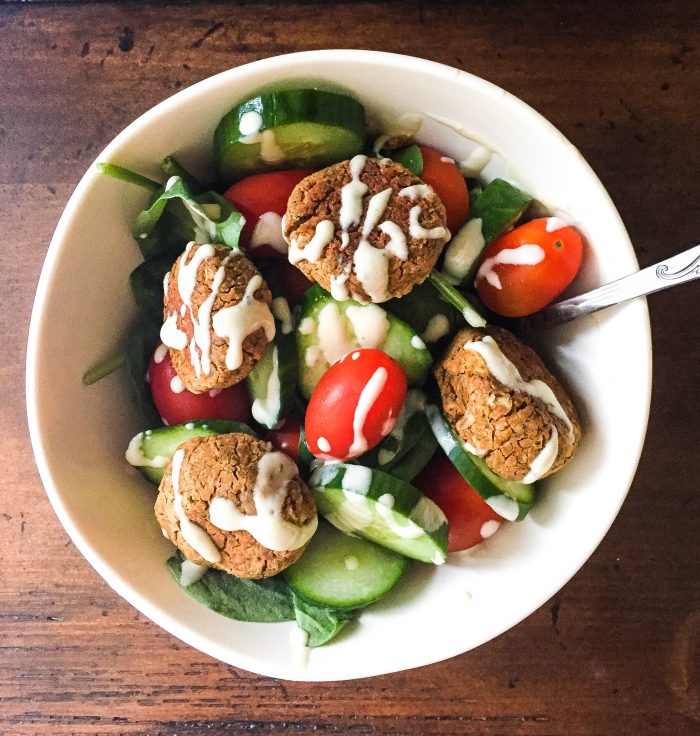 Gluten-Free Falafel Salad w/ Lemon-Tahini Dressing
This Gluten-Free Falafel Salad with Lemon-Tahini Dressing is THE answer to your craving for Mediterranean takeout. Personally, I have that craving all the time. Shawarma. Kebobs. Hummus. And of course, falafel. And when you want a wholesome, gluten-free, and pretty darn convenient Mediterranean option for a night in, this salad will get you there. Plus, it's vegan. So you can impress all your plant-based friends. I guess that's a thing, right?
When I tinker with recipes, I love turning classic fast food or takeout dishes into healthy, gluten-free options. I'm all about reinventing these foods so people with diet restrictions or cleaner lifestyles can enjoy dishes that they previously considered "off-limits." With that said, I don't like looping foods into "don't eat" and "eat" categories because I think that can lead to feelings of deprivation and can just make you go CRAZY. I don't want to make you go crazy. You've got enough going on in your life. And even if you eat a diet that's primarily gluten-free, dairy-free, refined sugar-free, and junk-free, your food doesn't have to be fun-free!
Regardless, when you eat real foods and don't want to put below-average or shady ingredients into your body, it's sometimes easiest to avoid some takeout or fast casual options. While there are lots of gluten-free and healthy eating out options these days, it can be tough to know for sure what unknown ingredients lurk behind the surface. The only way to know 100% what's going into your food is to stand behind the chef while they're making your food or (the less creepy option) just make it yourself. And making "fun" food doesn't have to require a ton of ingredients or time. So the next time you want some tasty, quick Mediterranean food, try out this Gluten-Free Falafel Salad with Lemon-Tahini Dressing.
the process
It turns out that making gluten-free falafel is a whole lot easier than you might think (truth be told, this was my first attempt). All it takes is a food processor and a few clean, flavorful ingredients (spoiler alert: you'll need a bunch of spices, chickpeas, and a little organic quinoa flour — from one of my all-time favorite gluten-free brands, Namaste Foods).
The actual prepping of the falafel takes less than 10 minutes. I'm not even joking. All you need to do is crush the garlic, chop the onion, and drain the chickpeas (garbanzo beans). Once that labor-intensive job is done, you add all the ingredients into your food processor and blend everything together for a couple minutes. It comes together in a flash.
This dish is about as hands-off as it gets in terms of cooking the falafel. After you form the "dough" into small discs, you'll simply place on a baking sheet and drizzle with olive oil and then bake. When you're baking the falafel, you can assemble your salads and make the Lemon-Tahini Dressing (which takes less than 5 minutes). And that's it. You've got a fun, "fast casual" Mediterranean dish in less than 45 minutes.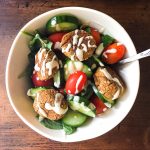 Gluten-Free Falafel Salad w/ Lemon-Tahini Dressing
Ingredients
For the falafel
1

can

15 oz chickpeas (garbanzo beans)

5

cloves

garlic

crushed

1/4

cup

diced onion

1/4

cup

organic quinoa flour

2

tbsp

parsley

1

tbsp

cumin

1

tbsp

paprika

1

tsp

coriander

1/2

tsp

sea salt

1

tsp

pepper

Olive oil

for drizzling
For the Lemon-Tahini Dressing
Juice from 1-2 large lemons

1/3

cup

olive oil

1 1/2

tbsp

tahini

Salt and pepper to taste
For salad
Organic spinach

1

cup

grape tomatoes

1-2

cucumbers

sliced into 1/2-inch pieces
Instructions
Preheat oven to 350 degrees Fahrenheit and line a baking sheet with parchment paper

Crush garlic and chop onion

Add the chickpeas, garlic, onion, quinoa flour, and spices to the food processor

Process on Low for 2-3 minutes (until it begins to form into a wet, moldable dough)

Shape dough into small puck- or disc-shaped falafels and place on baking sheet

Flatten tops slightly and drizzle with olive oil

Bake for 15 minutes, then flip falafels over and bake for an additional 10 minutes. Let cool

While falafels are cooling, make Lemon-Tahini Dressing by whisking together lemon juice, tahini, olive oil, and salt & pepper in a small bowl (alternatively, you can combine all ingredients in a mason jar and shake)

Assemble salad with spinach, tomatoes, and cucumbers. Top with falafels, and drizzle Lemon-Tahini Dressing on top