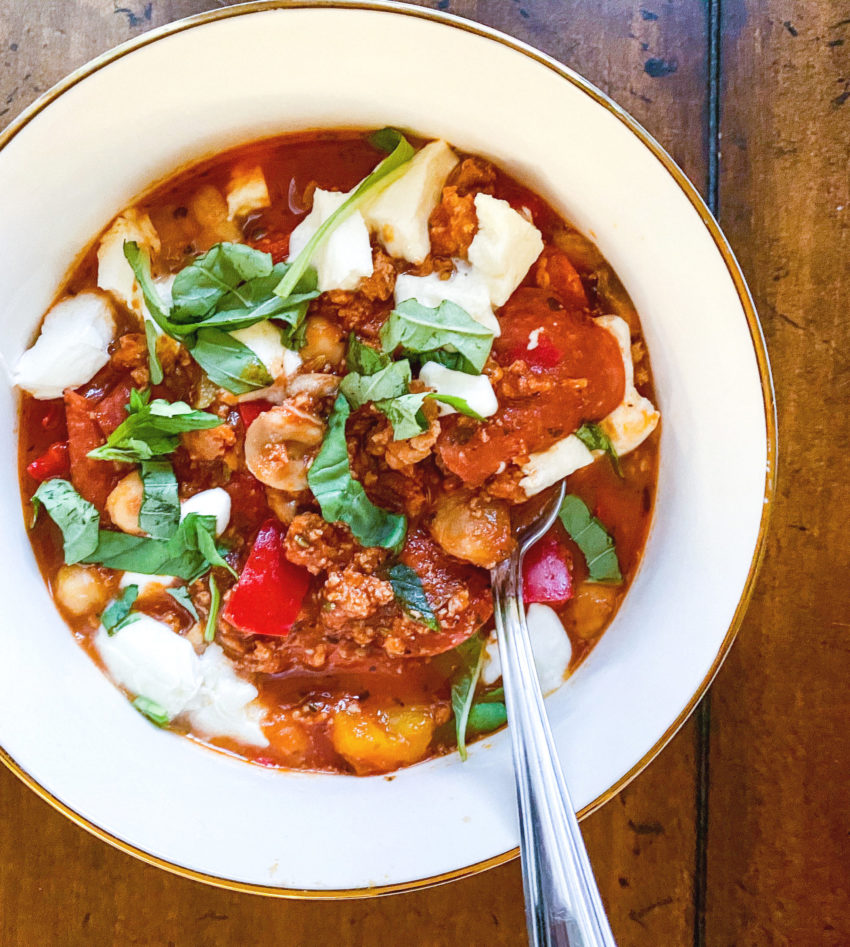 Mushroom and Pepperoni Pizza Chili
You saw this one coming, right? There's nothing that brings more joy on a rainy day (or quarantine) than a good bowl of chili. And there are few things that bring me more joy than pizza. World's collided…and boom, Pizza Chili!
This Mushroom and Pepperoni Pizza Chili is the kind of meal you'll want to make again and again. Not just because you're bored of regular chili, but because the flavors here are SO GOOD. And it's healthy. And it freezes nicely. And it makes for great leftovers. You're welcome.
This riff on classic chili uses garbanzo beans instead of black or kidney beans, and features sauteed mushrooms and peppers (I'm still 100% on board with throwing bell peppers into every bowl of chili I make – see my Easy Homemade Turkey Chili With Bell Peppers).
the process
Like most chili recipes (or at least mine), this one involves just a tiny bit of prep, a few ingredients and a little time. And you can mix up the ingredients here too, which is just lovely if you're stuck at home and trying to work with whatever you have in your pantry and freezer!. So I went with the basics here. Do you have ground turkey? Ground beef? Ground pork? Any of those will do. No Italian seasoning around? Add generous amounts of oregano, basil and garlic powder, and call it a day.
The only cooking tip I would give you for this one is to use olive oil (or the cooking fat of your choice) when you're strictly using ground turkey or a lean ground meat. Beef and pork have enough fat to work with, but turkey is naturally very lean. Plus the olive oil is a nice touch with all the Italian flavors here.
For low-carb, feel free to make this a strictly meat and veggie chili (leave out the garbanzo beans), and if you need to modify it to be non-dairy, feel free to leave the mozzarella off. But if you do eat dairy, why would you leave fresh mozzarella out of anything?! Curious minds want to know.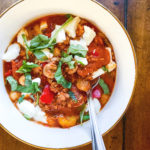 Mushroom and Pepperoni Pizza Chili
Not your ordinary chili – this one is pizza in a bowl, topped with fresh mozzarella and basil.
Ingredients
1

tbsp

olive oil

1

lb

ground turkey or ground beef

1

red bell pepper

diced (you may also use yellow or orange)

2

cups

mushrooms

sliced

1

can

tomato sauce

1

can

tomato paste

1

can

crushed or diced tomatoes

Salt and pepper

(to taste)

3

tbsp

Italian seasoning

(e.g., oregano, basil, garlic powder, etc.)

1

tsp

cumin

1

tsp

fennel seed

1

can

garbanzo beans

rinsed

20-25

pepperonis

(I recommend Applegate)

4

slices

fresh mozzarella

(optional)

chopped fresh basil

(optional)
Instructions
Add olive oil to bottom of Dutch oven (if you're using ground turkey). If you're using ground beef, just add beef to bottom of Dutch oven. Cook over medium heat until browned.

Stir in mushrooms and diced bell pepper and saute with meat. Add tomato sauce, tomato paste, and diced or crushed tomatoes.

Add in all seasonings and stir together until evenly distributed. Cover and cook on medium-low to medium for about 10 minutes.

When the mushrooms are softened and meat is fully cooked, add in rinsed garbanzo beans and pepperonis. Stir and cook together for 5 to 7 minutes over medium-low heat.

Once ready to serve, ladle into bowls and top with fresh basil and fresh sliced mozzarella.