"Cinnamon Raisin Toast" Peanut Butter
Toast is one of my favorite things. I have so much love for toast. Toast with butter, toast with an egg on top, avocado toast, and of course, toast with peanut butter. Bring cinnamon raisin toast into the mix, and you're sweeping me off my feet. Needless to say, dreaming up this delicious gluten-free and refined sugar-free "Cinnamon Raisin Toast" Peanut Butter was not a far stretch for me.
Whether you're a toast fanatic or not, I recommend that you try making this "Cinnamon Raisin Toast" Peanut Butter at least once. It has the flavor profile of a piece of warm, buttered cinnamon raisin toast (which I credit to the dash of vanilla extract and processed raisins). It's perfect for pairing with an apple or putting on a piece of gluten-free toast. Even better, spread it on top of a piece of gluten-free cinnamon raisin toast, and you've got something pretty magical. Cinnamon raisin on top of cinnamon raisin. It's like a dream within a dream. A delicious peanut butter and cinnamon raisin toast dream.
The good news for gluten-free toast fans like myself, is that there are plenty of wonderful and tasty gluten-free breads available that pair oh-so-well with this peanut butter. I've tried many gluten-free breads, and while I wouldn't necessarily recommend eating them every day (especially if you're eating a low-inflammatory, low-carb, or grain-free diet), having a piece of toast in moderation is a lovely thing. In my experience, there are a few standout brands, and I would recommend these three across the board: Little Northern Bakehouse, Canyon Bakehouse, and BFree Foods. Even if you're the most die-hard, 100% gluten bread-loving fan, I promise you'll fall for one of these options. Especially if "Cinnamon Raisin Toast" Peanut Butter is spread on top.
the process
Like most nut and seed butters, "Cinnamon Raisin Toast" Peanut Butter is quick and easy to make, and has the perfect texture and flavor. Once you taste homemade peanut butter (and see how convenient it is to make), it's pretty hard to go back to store-bought varieties. The customization alone is hard to beat: Don't like raisins? Take them out! Not a fan of cinnamon? Try a different spice! So many peanut butter possibilities.
One note about the raisins: For this recipe, I processed them into the peanut butter (for just about 30 seconds) because I wanted the flavor without a handful of raisins in every bite. However, if you want a more textured peanut butter, just stir the raisins in at the end. Other than that, this recipe is quick, easy, and incredibly flavorful. Homemade peanut butter is just the best. Just like toast.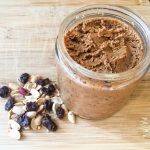 "Cinnamon Raisin Toast" Peanut Butter
Ingredients
2

cups

unsalted

shelled peanuts (organic if at all possible - it really does make a difference with peanuts)

1 1/2

tsp

cinnamon

1/2

tsp

vanilla

1/2

tsp

salt

1/3

cup

raisins

organic
Instructions
Add peanuts to your food processor and process for 5 mins on the High setting

Scrape down bowl after 5 minutes and add in cinnamon, vanilla, and salt

Process additional seasonings with peanuts for 2 minutes on Low

Last, add the raisins and process for about 30 seconds on Low setting (alternatively, you can stir in the raisins if you like a chunkier texture)

Store in a mason jar or small glass jar for 7-10 days (I typically store mine in the refrigerator, but if you like a softer texture, you can keep it in your pantry or cupboard for about a week)