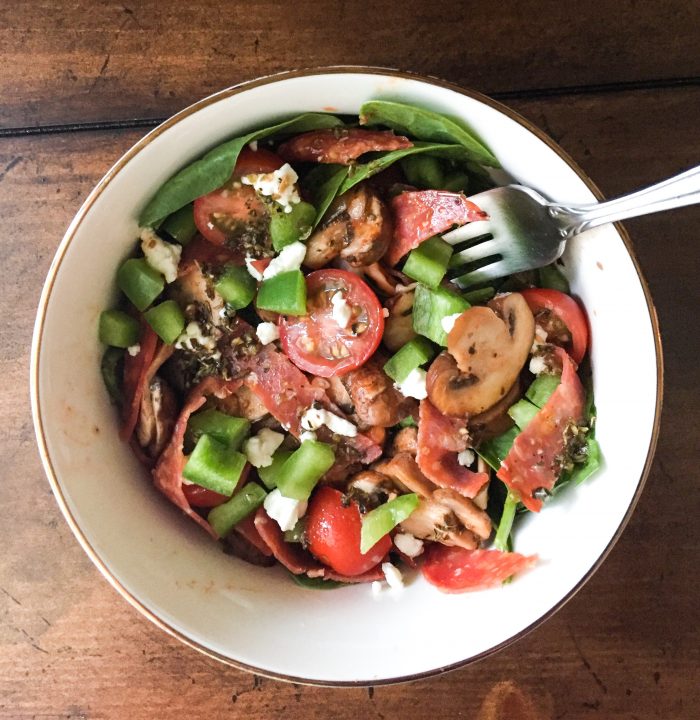 Supreme Pizza Salad w/ Italian Herb Vinaigrette
I believe that if you put your mind to it, you can make pizza out of ANYTHING. And if I want supreme pizza without the crust, you better believe I'll be making this Supreme Pizza Salad w/ Italian Herb Vinaigrette. It has all of the craveable flavors of a mushroom, green pepper, and pepperoni pizza rolled into a healthy, veggie-packed salad. I really wouldn't mind eating this every day.
As you've probably noticed, I really enjoy transforming classic foods like hot dogs and deli sandwiches into healthy, delicious salads. And it's not just because my taste preferences often drift towards those of an 11-year-old child rather than a 30(ish)-year-old working adult. The truth is, I really believe we should enjoy the foods we eat, and a healthy lifestyle should never feel like deprivation. It's important to eat healthy foods that you enjoy, are simple to prepare, and are most importantly, fun.
So if you feel like the seriousness of adulthood is creeping up on you, and you just want to settle in for a night of TGIF sitcoms and a slice of pizza, try this healthy version of a Friday night classic. Because "guilty" pleasures are the very best when you don't feel lousy afterward from indulging a little too much. Enjoy that episode of Full House, and this Supreme Pizza Salad is sure to conjure up memories of kicking back on the sofa with a big slice of delivery pizza.
the process
Like a good delivery pizza, this Supreme Pizza Salad should be done in less than 30 minutes, or it's FREE! Just kidding about that last part: you still have to buy the groceries. But it's pretty darn quick, and after just a little preparation, you'll be able to enjoy your TV or movie marathon with a scrumptious salad by your side.
The key to making this salad really special is by using sautéed mushrooms. I know mushrooms can be a divisive food, but even mushroom-haters might want to give these a try. Simply sauté a few simple ingredients together: onion, garlic, mushrooms, and tomato paste. And once you've made this magical mixture, your kitchen will smell like you're in a mom-and-pop pizza place or a cozy Italian restaurant. You're welcome.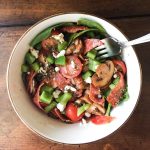 Supreme Pizza Salad w/ Italian Herb Vinaigrette
Ingredients
For the sautéed mushrooms
3

cups

sliced mushrooms

I used Baby Bella, but white would also work well

1/4

cup

onion

diced

3

garlic cloves

minced

1

tbsp

dried oregano

1

tbsp

dried basil

1 1/2

tbsp

tomato paste

Salt and pepper

to taste
For the salad
1

pound

organic spinach

1

cup

grape tomatoes

sliced in half

1/2

cup

green peppers

diced

Pepperoni

cut into strips

Crumbled goat cheese
For the herb vinaigrette
1/4

cup

olive oil

2

tbsp

red wine vinegar

1

tsp

dried oregano

1

tsp

dried basil

Salt and pepper

to taste
Instructions
Drizzle olive oil in a large skillet over medium heat

Add onion and garlic to pan and sauté for 2-3 minutes

Add mushrooms, spices, salt and pepper, and tomato paste

Sauté for 6-8 minutes over low to medium heat

While mushrooms are cooking, make vinaigrette

In a mason jar or a small glass bowl, whisk or shake together olive oil, red wine vinegar, oregano, basil, and salt and pepper until ingredients are distributed

After mushrooms are done cooking, assemble salad

Add spinach and tomatoes to base of bowl or plate, then top with sautéed mushrooms and crumbled goat cheese

Top with pepperoni strips and green peppers; then drizzle vinaigrette over salad