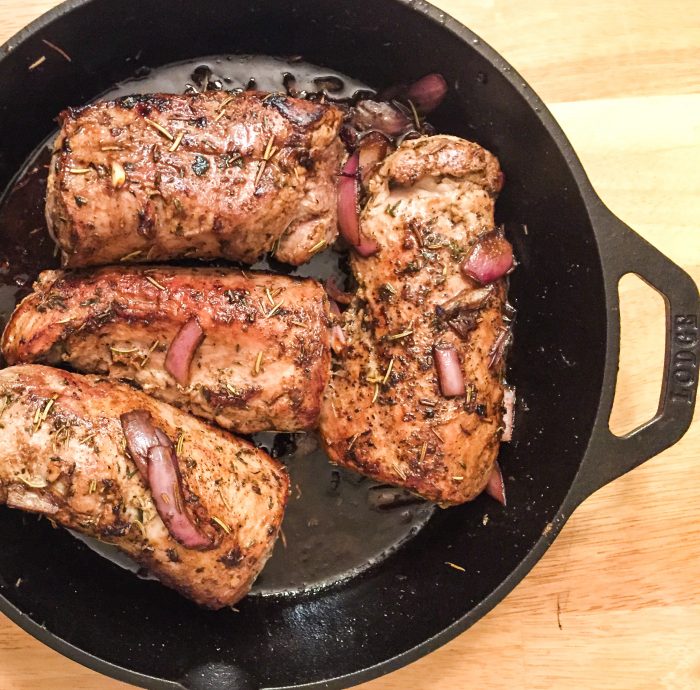 Easy Balsamic and Rosemary Pork Loin
Having an "edited" kitchen and relying on a few very simple, healthy ingredients does not mean your food should be boring. And this Easy Balsamic and Rosemary Pork Loin is a testament to that principle. This is a budget-friendly, SUPER simple dish that relies on one main protein and some pantry staples that you probably already have on hand. That's pretty enticing, right?
Well to sweeten the deal, this Easy Balsamic and Rosemary Pork Loin is also incredibly flavorful, savory, and ridiculously moist (which is always a worry with pork). And because pork loin goes a long way, you'll have delicious leftovers for days. Also, it's a lean and clean source of protein, without any weird sauces, added sugar, or any sort of processed ingredients. That means if you're doing a Whole30, a 21-Day Sugar Detox or some combination of an ultra-clean reset, you can make and eat this one without a care in the world. You're welcome.
I don't think I need to sell this one to you, but I will add that it looks pretty darn great, too. When you bring out this Balsamic and Rosemary Pork Loin for dinner, your family or guests might do a double-take and think you just got this balsamic-glazed beauty from a fancy-schmancy restaurant. For such a simple pork loin, it's a showstopper.
the process
Pork loin really lends itself to the "sear and bake" method. I've actually made pork loin in my Instant Pot before, and while it's really tasty (as most things are in the magical Instant Pot), you don't get that delicious caramelized crust that's inherent with a cast iron pan.
Since pork loin is in a roll shape, you want to make sure to sear all four sides (after you add a little bit of balsamic to the pan to get the glaze started). The method that I like best is searing the two sides with the most surface area for three minutes on each side and then searing the smaller sides for two minutes on each side. It gets the perfect amount of sear, and it makes it shine like a new car.
Once you're done with the searing, you simply put the cast iron skillet directly in a hot oven for about 15 minutes. Don't forget to use your oven mitts when you move the skillet from your stovetop to the oven! Not that I've ever forgotten…
Could this meal get any easier? For a simple side, serve with sautéed mushrooms or some dark greens in a little bit of olive oil, and your meal will feel even fancier than you'd expect. And the best part is, you're getting an incredibly healthy, high-protein dinner that came together in a breeze.
Easy Balsamic and Rosemary Pork Loin
Ingredients
2

pork loins

cut in half

1

tbsp

rosemary

1

tbsp

thyme

1

tsp

garlic powder

1

tsp

salt

1

tsp

pepper

1

small red onion

diced

1/2

cup

balsamic vinegar

4

tbsp

butter or ghee
Instructions
Preheat oven to 450 degrees fahrenheit

Season pork loin with rosemary, thyme, garlic powder, salt and pepper

Heat cast iron skillet to Medium-High heat

Add 2 tbsp butter and enough balsamic to coat the pan (2-3 tbsp)

Cook pork loin over Medium-High heat for 3 minutes on each of the larger-surface area sides, and 2 minutes on each of the smaller sides (10 minutes total)

Add red onions to the skillet. Transfer cast iron skillet to oven (carefully!) to bake for 15 minutes

After 15 minutes, take out skillet and place back on stovetop. Use tongs to move the pork loin to a plate or surface and cover in foil

While pork is resting, heat skillet up to Medium and add 2 tbsp butter. Gradually stir in 1/3 cup balsamic vinegar, scraping any bits and spices from the bottom and stirring for about 5 minutes

Finish pork by adding back to the pan and coating with the balsamic sauce