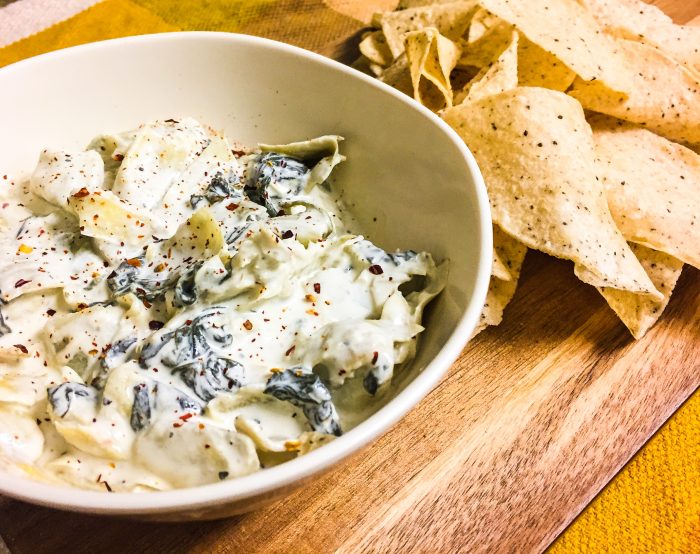 Easy Goat Cheese Spinach-Artichoke Dip
Roughly 50% of my diet in college was made up of spinach-artichoke dip. Seriously. And it usually came from chain restaurants that likely didn't serve spinach in any other form on the menu. But I digress. I still adore spinach-artichoke dip, but I'm convinced that eating a homemade, dairy-friendly (goat cheese instead of conventional dairy) version is probably a lot better for you. So say hello to my Easy Goat Cheese Spinach-Artichoke Dip. It's incredibly simple, super flavorful and even Paleo-friendly.
Bring this to your next game day, family get-together or birthday party, and don't tell anyone that it's better for them than the standard restaurant or store-bought version. Believe me, they won't know the difference. And they also won't know that it took you about 15 minutes and just six main ingredients to make.
It's so simple that the only thing you'll need to consider is what kind of "vehicles" to serve it with. Good old corn tortilla chips are always a win, but to make your Paleo friends proud, you can also serve it with corn-free Siete Foods tortilla chips (which I did here). If you end up going for corn tortilla chips, take a look at the oils and make sure there aren't any weird additives. It's pretty difficult to get away from vegetable oils altogether when you're buying a bag of chips, but do your best. There are a lot of good options out there these days. And of course, veggies are always the best choice. I recommend crunchy veggies that can hold up to a hearty dip, like carrots, sliced cucumbers, and celery. Before you scoff at celery, think of it this way: Celery is so neutral tasting that it's the closest you'll get to just eating the dip straight up with a spoon (which is perfectly acceptable if you've had a long day).
the process
To make my Easy Goat Cheese Spinach-Artichoke Dip, you'll need a small saucepan and a spoon to mix everything together. And that's about as technical as this one gets.
Don't worry about actually cooking everything in this dip. Of course, you should lightly saute your shallot or garlic and cook your spinach until wilted, but don't leave everything on the stove too long. You simply want to heat everything together until the goat cheese is melted and all the ingredients are equally distributed.
I like to make this Easy Goat Cheese Spinach-Artichoke Dip in advance and leave it in the fridge overnight. You can then heat it up in the microwave or eat it cold (I'm not judging, and I like it both ways!). The best part of making this one in advance is that you don't have to worry about throwing it together right before your party or get-together. The worst part is that you may end up needing to make another batch because you ate the first one. Thanks, spinach-artichoke dip.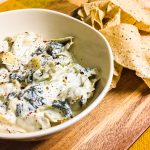 Easy Goat Cheese Spinach-Artichoke Dip
Ingredients
1

tbsp

avocado oil

1/2

tsp

minced shallot or garlic

3

cups

fresh spinach

packed

1 14

oz

can artichoke hearts

quartered (drained)

1/2

cup

goat cheese

1/4

cup

organic mayo or for Paleo-friendly

avocado oil mayo (like Chosen Foods version)

1/4

tsp

garlic powder

1/4

tsp

salt

1/4

tsp

pepper

1/2

tsp

crushed red pepper

or too taste, I like it with a little kick

Chips or veggies for serving
Instructions
In a small saucepan, heat avocado oil and shallot or garlic over medium heat for 30 seconds or so (until the scent comes through)

Add spinach and stir together until just wilted

Drain artichoke hearts and add to saucepan; stir together, breaking up the artichoke hearts with a spoon as you go

Mix in goat cheese, mayo, and spices over medium-low heat

Stir for a few minutes and add additional salt or pepper to taste

Refrigerate after cooling and serve with chips and veggies