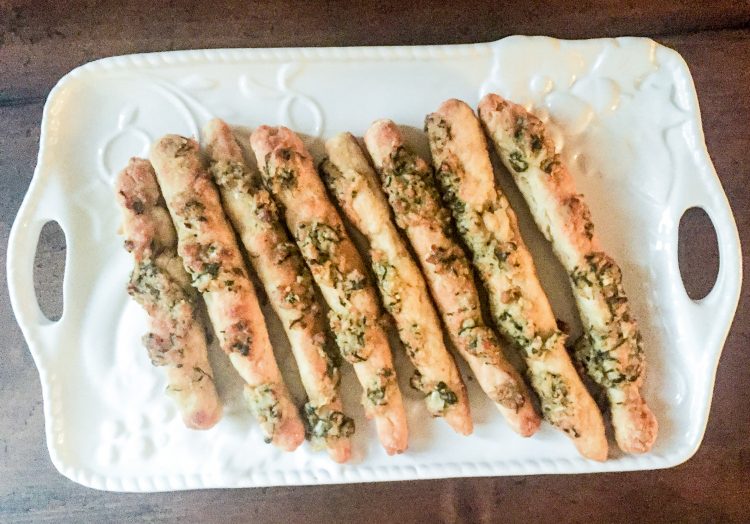 Gluten-Free Italian Breadsticks with Homemade Pesto
Gluten-Free Italian Breadsticks with Homemade Pesto are the quintessential Italian restaurant-style breadsticks you've been missing in your life. With a crisp, doughy texture and notes of garlic and basil throughout, these breadsticks pair perfectly with my grain-free Italian Sausage Bowls or chicken parmesan. And that homemade pesto on top? Icing on the cake.
One of the things I miss most about life post-gluten is the crusty bread, breadsticks, or rolls that you get before a restaurant meal. I could wax poetic about the different breads and breadsticks that I liked in my former life, but for starters, any garlicky breadstick from an Italian restaurant easily lands in the top 5. And don't even get me started on the garlic breadsticks from Stonefire Grill. I dream about those breadsticks.
With that said, the idea of making gluten-free breadsticks that could come close to Italian restaurant-style or Stonefire-style seemed nearly impossible. I've definitely tasted fantastic gluten-free bread before, but there's something about the doughy, crusty texture of Italian breadsticks that seemed unreachable. But after making these, I can tell you that these breadsticks are pretty darn close to the real deal.
Before I get into the process of making these, I should say that there are two must-have ingredients you need to make this recipe a success: homemade pesto (preferably made in a mortar and pestle) and Bob's Red Mill Gluten-Free Pizza Crust Mix. This life-changing pizza crust mix is an essential ingredient for a couple reasons. First, you don't need to wrangle up a bunch of different flours and extra ingredients to make the pizza dough. Second, you don't need to worry about your pizza dough failing miserably if you mix the ingredients incorrectly or use the wrong ratios (not that I've experienced that). Lastly, it's significantly less expensive buying one mix rather than each individual ingredient. That's especially the case if you're not making this everyday, although that also sounds pretty amazing.
Can you please invite me over if you do decide to make these breadsticks every day? Thanks in advance. Sincerely yours, Debbie.
the process
There are three processes involved in these Gluten-Free Italian Breadsticks with Homemade Pesto, and they are as follows: mix and proof the dough, make the pesto, and bake the dough twice (10 minutes without pesto, 10 minutes with pesto). Figuring out the timing of those steps is potentially the most effort you'll have to put into this, since the pesto is super easy to make and the dough just takes a bit of your time and some TLC (not the female trio from the 90s, though feel free to play Waterfalls or No Scrubs while you're cooking so you can relive the 1990s). In any case, since timing is crucial, I'll give you a quick rundown on that.
First, prep your dough. You'll need to start by combining the yeast and warm water for a couple minutes so it can work its magic. The yeast is what makes these gluten-free breadsticks taste so similar to the Italian restaurant breadsticks of your dreams. The Bob's Red Mill Gluten-Free Pizza Crust Mix comes with a packet of yeast that you'll need to pull out of the bag (it's kind of like getting a toy out of a box of cereal!). After those minutes pass and the yeast is dissolved, add the eggs and olive oil and then the flour. Mix it up, shape it into a big ball and cover the bowl with saran wrap. Now, we wait for more magic to happen (i.e., the dough to rise).
While you're waiting for the dough to rise, make the pesto. Pound it out in a mortar and pestle (my preferred method), or combine it in a food processor. The mortar and pestle method gets a lot more flavor in my opinion (I've done both methods), and it's a nice stress reliever. You can put the pesto in a glass container and refrigerate, or just leave it out while you wait for the breadsticks.
Last, you're going to bake the dough. Once the dough has risen, divide into 14-16 smaller pieces and roll each piece out into a snake on a flat surface (I like to use a big cutting board). When you have those little snakes ready, place on a greased pizza pan and bake for 10 minutes. After baking for 10 minutes, take the pan out, spoon a good amount of pesto over each one and bake for another 10 minutes. There you have it. Homemade, restaurant-style Italian breadsticks, which just happen to be gluten free.
Gluten-Free Italian Breadsticks with Homemade Pesto
Servings
14
-16 breadsticks
Ingredients
For Pesto
1/4

cup

pine nuts

1

cup

fresh basil leaves

4

garlic cloves

peeled

1/4-1/2

cup

grated parmesan cheese

1/4-1/2

cup

olive oil

1/2

lemon

juiced

Salt and pepper to taste
For Italian Breadsticks
1

bag Bob's Red Mill Gluten-Free Pizza Dough

1 1/2

cup

warm water

1

yeast packet

included with dough mix

2

eggs

2

tbsp

olive oil
Instructions
Preheat oven to 425 degrees fahrenheit

Spray a large pizza pan with coconut oil or olive oil

Combine yeast packet with warm water in a large bowl, let sit for 2 minutes until yeast dissolves

Add eggs and olive oil into yeast mixture and whisk together

Mix in pizza dough mix and form dough into a large ball

Cover bowl with saran wrap and proof for 20 minutes

To make pesto, mash together pine nuts and garlic cloves in a mortar and pestle

Once it makes a rough paste, add in basil leaves and parmesan and crush together

Slowly add in olive oil as needed and lemon juice and stir all ingredients together; season with salt and pepper

Leave pesto in mortar and pestle or refrigerate in a glass container

Once breadstick dough has risen slightly, divide into 14-16 equal-size balls

Roll out dough into snake shapes on a flat, smooth surface (like a cutting board)

Lay breadsticks onto pizza pans and bake for 10 minutes

After 10 minutes, remove pan from oven and top breadsticks with pesto

Bake for 10 more minutes or until top of breadstick is golden brown