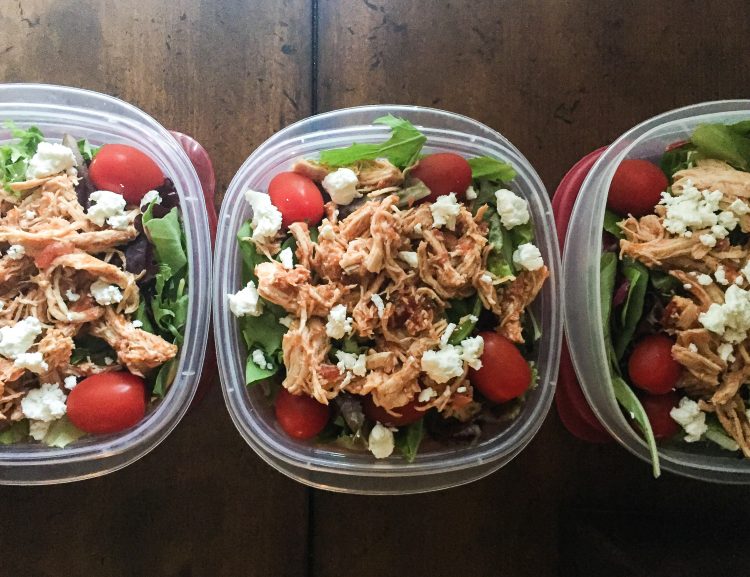 Instant Pot Zesty Lime Shredded Chicken
Instant Pot Zesty Lime Shredded Chicken is a genuine life-saver. It's the kind of meal prep I love because it involves about 5 minutes of prep and 20-25 minutes of completely hands-off cooking. And it tastes so darn delicious. The combination of lime, salsa, and chile powder on top of succulent, juicy chicken is pretty perfect.
To be honest, make-ahead meals aren't usually my idea of a good time. I have no problem saving leftovers to eat the next day after making dinner, but I don't like the idea of cooking a full meal to freeze or portion out for the week. I admire those who plan lots of meals ahead of time, but as a "kitchen minimalist," I like having room in my fridge and using what I have on a meal-to-meal basis. On the flip side, I absolutely love having ready-to-eat protein for the week (eggs, chicken, etc.) and using "small-step meal prep" techniques to make life a little easier. And the Instant Pot makes that process even quicker and more painless.
This Instant Pot Zesty Lime Shredded Chicken is a great protein to prep for the week ahead, because it's so versatile. Fold it into a corn tortilla with a little guac on top, add it to your salad for lunch with grape tomatoes and goat cheese, or just eat it plain. The choice is yours.
the process
With the Instant Pot, there isn't much "technique" involved in the cooking process. And that's a lovely thing if you've ever sleepily made chicken and forgot to turn a timer on (*raises hand*). Needless to say, this Instant Pot Zesty Lime Shredded Chicken is a "set it and forget it" type of meal, perfect for those days when you're tired and a little absent minded.
When you're just adding a few ingredients into a pot, it's a good idea to choose quality products. For this recipe, that means using organic chicken, good-quality spices, and a clean brand of salsa (I'm a big fan of Drew's Organic brand salsas). Good ingredients make a world of difference, believe me. And since this recipe is so darn versatile, you can also choose a different type of salsa based on the level of heat you like. Keep in mind that you're essentially "cooking" the salsa, so it's going to be toned down quite a bit. For what it's worth, I used a medium salsa, and the results were pretty mild.
After making the chicken in your Instant Pot, you can shred it with forks (which I did here) or slice it the way you like it. Either way, once you've tried this flavorful chicken, this may become your new go-to meal for the week (even if you're an adamant non-meal prepper).
Instant Pot Zesty Lime Shredded Chicken
Ingredients
1

tbsp

grass-fed butter or ghee

3

large boneless

skinless chicken breasts (organic, if possible)

Juice from 3 medium-sized limes

1 1/2

cups

salsa

I used Drew's Organics Medium

2

tsp

chili powder

1

tsp

salt

1

tsp

pepper
Instructions
Add butter or ghee to Instant Pot and press Sauté button

Sauté chicken breasts for about a minute (they should be completely raw still)

Add lime juice, salsa, and seasonings on top of chicken, and press Cancel on Instant Pot

Place lid on Instant Pot, and make sure dial is set to Sealing

Press Poultry button and let chicken cook for the allotted time

Once chicken has finished cooking, do a Quick Release: press Cancel and turn dial to Venting

Shred chicken with forks or slice and store in a glass container