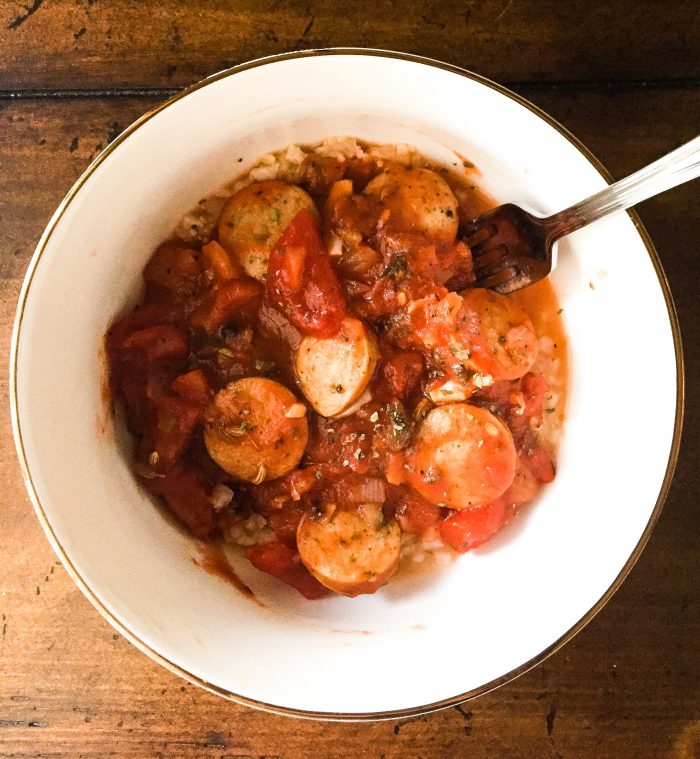 Italian Chicken Sausage Bowls w/ Cauliflower Rice
My Edited Kitchen tip of the week: Don't make everything from scratch…especially during the workweek. Use ready-made or pre-cooked ingredients when you can. Case in point: this recipe for Italian Chicken Sausage Bowls with Cauliflower Rice, which involves one homemade element and two store-bought or pre-cooked ingredients. Don't get me wrong, I'm still a firm believer in the quality of homemade over store-bought. But when you can take a shortcut to get to that home-cooked meal, take the shortcut!
When I first started cooking on my own, I had more of an "all or nothing" approach. If I was going to cook a "legitimate" meal for friends or family (aka not a protein bar or scrambled eggs), I wanted to make everything from scratch. It may have been my hidden (or not-so-hidden) desire to qualify as a contestant on Top Chef. Or maybe I just wanted to make something special for those friends or family. In either case, I've loosened up a bit, and I've come to see the enormous value in using a few ingredients that are already prepared and then putting a homemade spin on them.
So let's review the elements for these Italian Chicken Sausage Bowls with Cauliflower Rice. It features one from-scratch contribution: Homemade marinara sauce (because my mother taught me well). And it has two non-homemade contributions: Organic pre-cooked chicken sausage (I like Saag's, which you can usually get at Costco) and frozen organic cauliflower rice (from Trader Joe's). Of course, you're going to have to cook those non-homemade contributions, but taking the time and effort out of the prep work makes a world of difference. So there you have it: An easy, breezy (and grain-free!) weeknight dinner in less than 30 minutes.
the process
Timing is important when you're working with both homemade and already-prepped ingredients. Since you have some elements that are basically ready to go, always start with the ingredients that take a little bit of effort. In this case, you'll want to make the marinara sauce first. Making homemade marinara sauce is pretty darn easy, and it takes just a little time to develop those flavors. Developing those flavors and cooking the sauce down is key here, even if you're short on time. Simmer all of the sauce ingredients together over low-to-medium heat for as long as you can. And after you make this marinara sauce a few times and customize to your liking, you'll never want to go back to jarred.
Before I even start making the sauce, I get out all of my ingredients and tools that I need and put them in the most logical places for cooking and assembly. That means the chicken broth, cauliflower rice, and butter are next to a small saucepan that I'll use later. And the chicken sausage is either on a cutting board ready to be chopped, or already chopped and ready to throw in the sauce when needed. Prepping and planning ahead is everything when it comes to cooking. If cooking stresses you out, taking this simple step will do you a world of good.
That's the gist of these Italian Chicken Sausage Bowls with Cauliflower Rice. Super simple, right? And did I forget to mention that they are incredibly delicious and oh-so-satisfying, while still being grain- and dairy-free? Ridiculously good.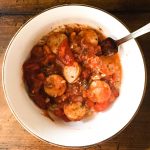 Italian Chicken Sausage Bowls w/ Cauliflower Rice
Ingredients
Olive oil

4

cloves

garlic

smashed

1/2

cup

diced onion

1/2

cup

diced mushrooms

1 15

oz

can crushed or diced tomatoes

1 15

oz

can tomato sauce

1

tbsp

fennel seed

1/2

tbsp

oregano

1/2

tbsp

basil

1

tsp

crushed red pepper flakes

I usually add a little more because I like a kick!

1

tsp

salt

1

tsp

pepper

4

organic chicken sausages

sliced into 1/4 to 1/2 inch pieces
For the cauliflower rice
1

bag frozen cauliflower rice

1/2

cup

chicken stock

Salt & pepper

to taste

1

tbsp

butter
Instructions
Add olive oil to a medium-sized saucepan and sauté onion and garlic over Medium heat until they become slightly transparent (about 3-4 minutes)

Add in mushrooms, and sauté for a couple more minutes

Stir in tomato sauces and all spices and simmer for 5-6 minutes over Low to Medium heat

Add in chopped sausage and continue simmering over low heat for 8-10 minutes

While the sauce is simmering, heat cauliflower rice in a small saucepan over Medium heat with chicken stock, butter, and salt and pepper; stir occasionally

Once sauce and cauliflower rice are done, assemble bowls with rice, marinara sauce and sausage, and top with fresh basil or parmesan cheese (if you do dairy)