Gluten-Free Peaches and Coconut Cream Doughnuts
Like peanut butter and chocolate, eggs and bacon, and pizza and pineapple, some flavor duos bring joy to my soul. And after making these Gluten-Free Peaches and Coconut Cream Doughnuts, I'm adding peaches and cream to the short list, too.
With their vanilla cake-like flavor and fresh peach topping, it's fitting that these little doughnuts make their debut in the final days of summer. But if you have another fruit you want to highlight, feel free to improvise. The base for these doughnuts is just so good, you'll want to try them a bunch of different ways.
These mini Gluten-Free Peaches and Coconut Cream Doughnuts are delicious for breakfast, but they're also a nice treat to have after dinner. You could even serve yourself a couple of these doughnuts with a scoop of dairy-free or full-fat ice cream (which I highly recommend you do).
On that note, let's talk about "healthy desserts." For what it's worth, these doughnuts aren't grain-free or keto or 100% paleo. But they're free of refined sugar, dairy, and wheat, and they don't have multiple ingredients that you can't pronounce. While it's nice to find a super-clean, low-carb treat, don't beat yourself up about having a dessert that's not perfect. When you find a delicious gluten-free doughnut, I wholeheartedly recommend you eat that doughnut.
For what it's worth, I don't eat desserts all the time, because I view them as occasional treats, not everyday meals. And that's at least part of the reason I don't fret about having a gluten-free treat. Perfection is highly overrated. If you can't eat a gluten-free doughnut without feeling guilty, it's time to relax a little. I'm preaching to myself here, too. Overthinking diet and health is always a battle, but at the end of the day, that gluten-free doughnut is not worth stressing about. To quote the philosopher Weird Al, "just eat it."
the process
The vanilla doughnut base for these Gluten-Free Peaches and Coconut Cream Doughnuts is incredibly versatile. I've made these little doughnuts with a chocolate glaze before, and they are oh-so-decadent and delicious. The texture reminds me of the frosted cake doughnuts of my childhood that we would get from a local shop down the street. No, they weren't healthy doughnuts. But there were always sprinkles, and that's really all that matters.
As I've mentioned before, when it comes to baking, I like using a good gluten-free flour blend (as opposed to mixing a bunch of different gluten-free flours and starches). As part of my Edited Kitchen mission, I don't think it's wise to be spending a ton of time and money on multiple ingredients just to make one gluten-free dessert or baked good. It's a doughnut; it isn't a five-course meal. So if I can find a shortcut in the form of a reliable gluten-free baking flour, you better believe I'm taking it. I typically turn to Namaste Foods' Perfect Flour Blend for that shortcut. I've used it in many recipes (like my no-fail Homestyle Apple Crisp) and I've come to rely on it because of its versatility and reliability. Let's be real here. Gluten-free baking can get a little dicey, and if you don't have the perfect blend of ingredients and the just-right ratio of flours, it can very quickly become a disaster.
One note about the 3-ingredient peach and coconut "frosting." While it comes together quickly and easily in a food processor, the texture is not like your standard buttercream frosting. Because it's not your standard buttercream. My advice? Top these doughnuts when they are slightly warm (and don't refrigerate the frosting) and roughly spread the mixture over the top of the doughnuts. It's okay to have these looking a little rustic and not all put together. Personally, I kind of like them that way. And also, I am kind of that way.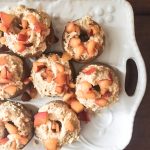 Gluten-Free Peaches and Coconut Cream Doughnuts
Ingredients
For Gluten-Free Vanilla Cake Doughnuts
1

cup

Namaste Perfect Flour Blend

3

tbsp

coconut sugar

1

tsp

baking soda

1/4

tsp

salt

2/3

cup

coconut milk

2

tsp

vanilla

2

eggs

1/4

cup

coconut oil

melted
For Peaches and Coconut Cream "Frosting"
1 1/2

cup

unsweetened coconut flakes

shredded coconut

2

diced peaches

1

tbsp

coconut sugar
Instructions
Preheat oven to 375 degrees fahrenheit

In a large bowl, mix together all dry ingredients

Stir in coconut milk, vanilla, and eggs

Once all ingredients are combined, add melted coconut oil and stir in quickly (TIP: This helps prevent any coconut crystals from forming if the coconut milk or eggs are cold)

Spoon dough into greased doughnut pan

Bake doughnuts for 12 minutes

While doughnuts are baking, add coconut flakes to a food processor and process on HIGH for 5 minutes

Scrape down bowl, and add 1 tablespoon of coconut sugar and half of the diced peaches to the mixture and process on LOW for 2-3 minutes (until fully combined)

After donuts have baked and cooled for about 10 minutes, add coconut and peach "frosting" on top of each donut

Sprinkle remaining chopped peaches on top