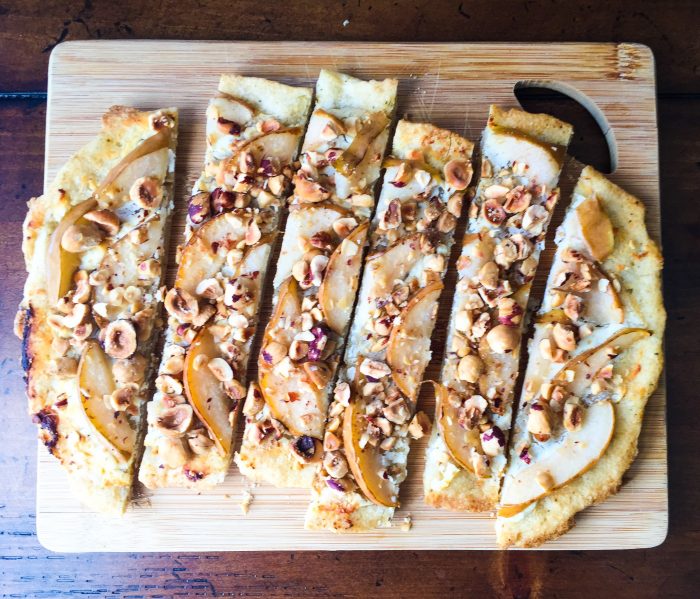 Gluten-Free Pear, Hazelnut, & Goat Cheese Flatbread (w/ Namaste Foods)
This Gluten-Free Pear, Hazelnut, & Goat Cheese Flatbread is a dream come true if you love all things crunchy, savory, and sweet. And bread. And cheese. And pizza-like foods. And you want a gluten-free option that you don't feel incredibly guilty about devouring. Or you just want a little pizza-like indulgence for a Friday night with friends. All in all, this is a pretty tasty little flatbread.
Story time: Back in my pre-gluten-free days, I adored this one kind of pizza from a popular restaurant. It had tons of cheese (a must), crispy crust (also a necessity), and PEARS. And while pineapple on pizza will always be my number 1 flavor of pizza, this fruity one was also pretty delightful. And so, this once-craved pizza became the inspiration for this quick and easy flatbread.
The best part of this recipe is that by using Namaste Foods' lovely gluten-free pizza crust mix, this was such a simple recipe to pull together. I call it a "shortcut" recipe, because it doesn't involve much effort at all when it comes to preparing the actual dough. Just add water and a little olive oil. That's it.
I've already sung the praises of Namaste Foods' reliable Perfect Flour Blend in my Gluten-Free Homestyle Apple Crisp recipe, and they've become my go-to brand for most gluten-free indulgences. I like baking, but gluten-free baking has many challenges and is difficult to master. Having a mix that I can turn to when I'm short on time or patience is a wonderful thing. And for a home cook-friendly recipe, this Gluten-Free Pear, Hazelnut, & Goat Cheese Flatbread also looks pretty fancy.
the process
For homemade flatbread or pizza with a "shortcut" recipe, using a reliable gluten-free pizza crust mix is essential. You will also want to bake the crust exactly how the box or recipe says. But seriously, don't fudge the cooking times or temperatures. You need to bake this long enough and hot enough so it's nice and crispy. For this Gluten-Free Pear, Hazelnut, & Goat Cheese Flatbread, flipping the crust over before putting on the toppings helps crisp it up as well. And really, what's the point of a crust that doesn't have some crunch to it?
From a flavor standpoint, keep it simple. As with most recipes I make, I don't like to venture far beyond 2 or 3 strong flavors. And when you have a milder fruit like pear, you especially want to make sure you don't get too crazy here.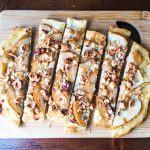 Gluten-Free Pear, Hazelnut, & Goat Cheese Flatbread (w/ Namaste Foods)
Ingredients
1 1/4

cup

Namaste Foods Gluten-Free Pizza Crust Mix

1

cup

water

Coconut oil

to grease pan

1

tsp

olive oil

plus more for spreading batter

1/2

cup

creamy goat cheese

1

pear

sliced thinly

1/3

cup

roasted hazelnuts

chopped roughly
Instructions
Preheat oven to 450 degrees Fahrenheit

Spray or grease pizza pan with coconut oil

Stir together pizza crust mix with water and olive oil until completely combined

Coat a spatula with olive oil and spread the dough out thinly on the pizza pan; shape it into a medium-sized rectangle (TIP: Add a small bit of olive oil to the top of dough to help spread it out without sticking to the spatula)

Bake for 20 minutes

Once the dough has finished baking, take it out of the oven and flip the crust onto the other side

Let dough sit for a couple minutes, then spread the goat cheese over the crust

Layer on pear slices and then top with chopped hazelnuts

Transfer to oven and bake for an additional 15 minutes

Once dough is finished baking, let cool for approximately 10 minutes and then slice