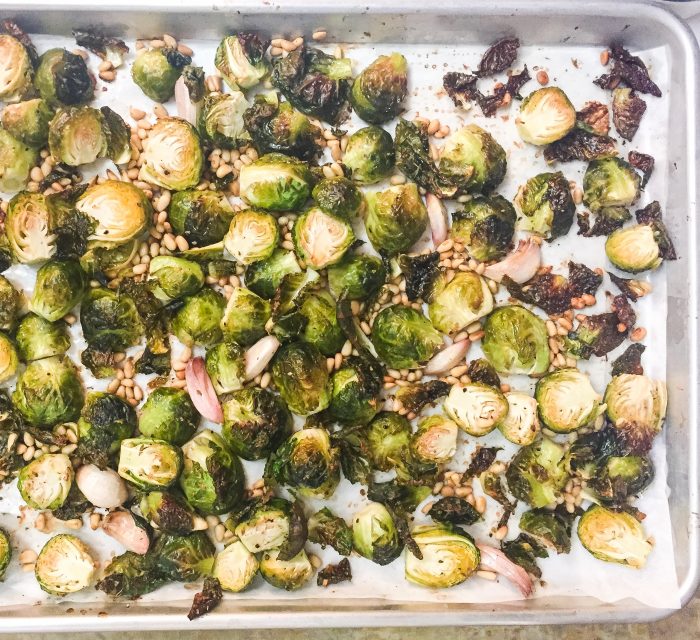 Roasted Brussels Sprouts With Pine Nuts and Garlic
I'm convinced that brussels sprouts haters just need to turn on their oven and get out a cookie sheet. And these Roasted Brussels Sprouts with Pine Nuts and Garlic may be the way to convert even the most passionate brussels sprouts despisers to fanboys or fangirls. I've hailed the transformative power of roasting veggies before (see my Roasted Veggie and Bacon Bowls); and, once you add some buttery pine nuts and aromatic garlic to the equation, these "mini cabbages" reach another level of deliciousness.
Once you get behind the under-appreciated brussels sprout, it's easy to fall under the spell of their amazing versatility. They can stand up to many different flavors and can be prepared cooked or raw. Roast them with bacon, shred them in your food processor and mix with apple, or drizzle balsamic vinegar and olive oil over them and sauté in a skillet. You can't do much to mess brussels sprouts up.
the process
As I've mentioned before, roasting is an almost no-fail approach to making perfectly cooked veggies. This is especially the case with these Roasted Brussels Sprouts with Pine Nuts and Garlic. Roasting really brings out the natural flavors and results in a pretty perfect texture (because who wants to eat soggy brussels sprouts?). I'd also like to add a couple notes about seasoning. When you're working with pretty strong flavors already, like pine nuts and garlic, keep the additional seasonings down to a minimum. Here, I just added salt and pepper. By keeping the other seasonings fairly minimal, it doesn't crowd out the other flavors and ultimately results in a simpler, easier-to-remember recipe (which is always a good thing).
You should also be pretty aggressive with the olive oil when you're drizzling over the brussels sprouts. Higher heat and olive oil result in a crispier end-result. And in my opinion, crispy roasted brussels sprouts are a beautiful, beautiful thing.
For the garlic, I roast the cloves in the skin. Raw garlic is a bit of a pain to peel manually (it sticks on everything), and this method is really great for mellowing out the flavor. The skins come off easier after you roast them, and the garlic becomes very smooth and fragrant without being crazy overpowering.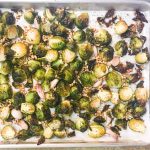 Roasted Brussels Sprouts With Pine Nuts and Garlic
Ingredients
1

pound

fresh brussels sprouts

1/3

cup

extra virgin olive oil

1/2

cup

pine nuts

6-8

small- to medium-sized garlic cloves

Salt and pepper

about 1/2 tbsp of each
Instructions
Preheat oven to 400 degrees Fahrenheit

Cut brussels sprouts in half and spread in a single layer over a large parchment-lined baking sheet

Distribute pine nuts and garlic cloves over brussels sprouts

Drizzle olive oil over ingredients, and top with salt and pepper

Toss brussels sprouts with your hands to coat evenly with olive oil and salt and pepper, ensuring that they remain in a single layer on the baking sheet

Roast brussels sprouts for about 30 minutes, until they appear caramelized and slightly crispy (TIP: You can adjust the time based on the heat of your oven, but 400 degrees seems to be the magic number for roasting)