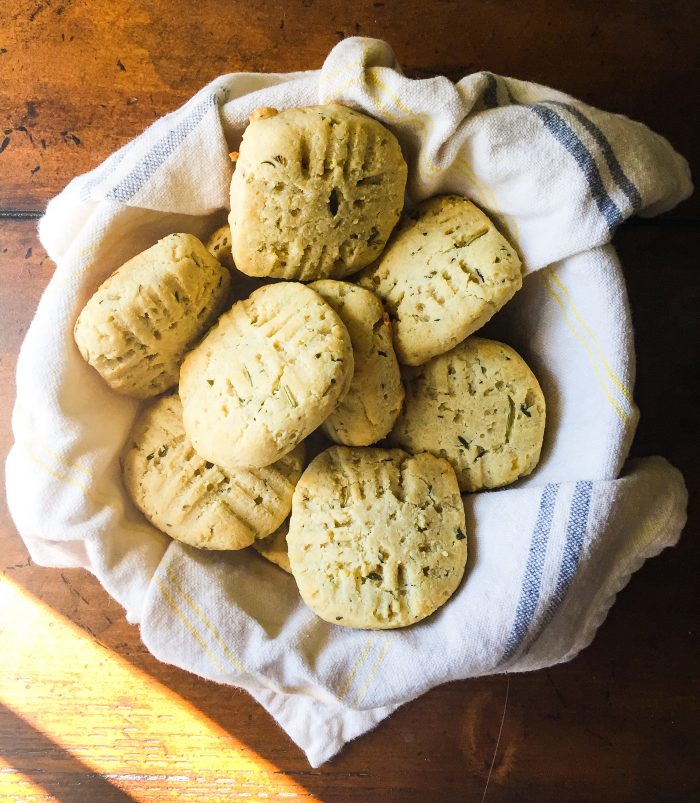 Grain-Free Almond Flour & Herb Biscuits
These Grain-Free Almond Flour & Herb Biscuits are pretty magical. Soft, savory, and buttery, I've made them more times than I can count. They started as a Thanksgiving tradition (I just had to find an alternative for those delicious and sweet Hawaiian rolls we always had on our table), but now they've become an easy staple that I could eat any day of the year. And since they take just 15 minutes to bake, it's not too difficult to make that happen.
When I transitioned to a lower-carb lifestyle midway through college, I would say the biggest thing that I didn't want to give up was bread. If I really had to, I could never eat a noodle, a grain of rice, or a potato again, but BREAD. Man, bread is just so good. And finding a good-quality, good-tasting gluten-free and low-carb bread option is easier said than done. There are plenty of fantastic rice flour-based breads out there, but when you're cutting back on sugar and grains, it's hard to find a tasty, bread-like option.
For being 100% grain-free, these Grain-Free Almond Flour & Herb Biscuits are the epitome of bread. Plus, since the main ingredient is almond flour, these are super satisfying. I hate to break it to you, but most bread is not satiating. This is why it's so easy to overeat refined carbs with lots of flour and sugar. You're always wanting more.
Disclaimer: These will totally fill you up; however, I can't guarantee you won't want more.
The process
Aside from being delicious, healthy, and perfectly textured, these Grain-Free Almond Flour & Herb Biscuits are SO quick and easy to make. You simply mix all your ingredients together in ONE bowl, form the biscuits, and then bake for 15 minutes. And after you make these once, you'll want to make them again and again because they're so easy to throw together.
You can also customize these biscuits with your favorite herbs and spices. This recipe calls for Herbes de Provence, because I've found that this blend works really well (and fewer ingredients = good times in the kitchen). But I've made them with rosemary, thyme, and a little garlic powder as well, and they've been pretty phenomenal. If you have a spice blend you try in this recipe and LOVE, please don't keep it a secret. Email me and let me know. I'll probably try it immediately.
A quick tip for almond flour here. For these biscuits, you'll want to use fine almond flour, as opposed to almond meal. Almond meal is great for many things, but if you want bread-like biscuits with a soft, doughy texture, use almond flour. I recommend Bob's Red Mill or Blue Diamond. I've used both of those brands for these biscuits, and I've never had any issues.
Grain-Free Almond Flour & Herb Biscuits
Ingredients
2 1/2

cups

almond flour

not almond meal

3

eggs

room temperature if possible

1/4

cup

coconut oil

melted

1

tbsp

honey

1/2

tsp

salt

1/2

tsp

baking soda

1 1/2

tsp

Herbes de Provence

or rosemary and thyme
Instructions
Preheat oven to 350 degrees Fahrenheit

Line a baking sheet with parchment or a

Silpat

Stir together all ingredients in a small bowl until they form a slightly sticky dough

Roll dough into small balls with your hands and then form into square-shaped biscuits

Place on parchment- or Silpat-lined baking sheet and flatten each biscuit slightly; you can also use a fork to make indentions on each side (NOTE: They will not expand like traditional baked items, so you want to shape them into the exact size and shape you want)

Bake biscuits for 15 minutes

Once they are cool, you may store them in an airtight container at room temperature for a few days, or in your refrigerator for about a week