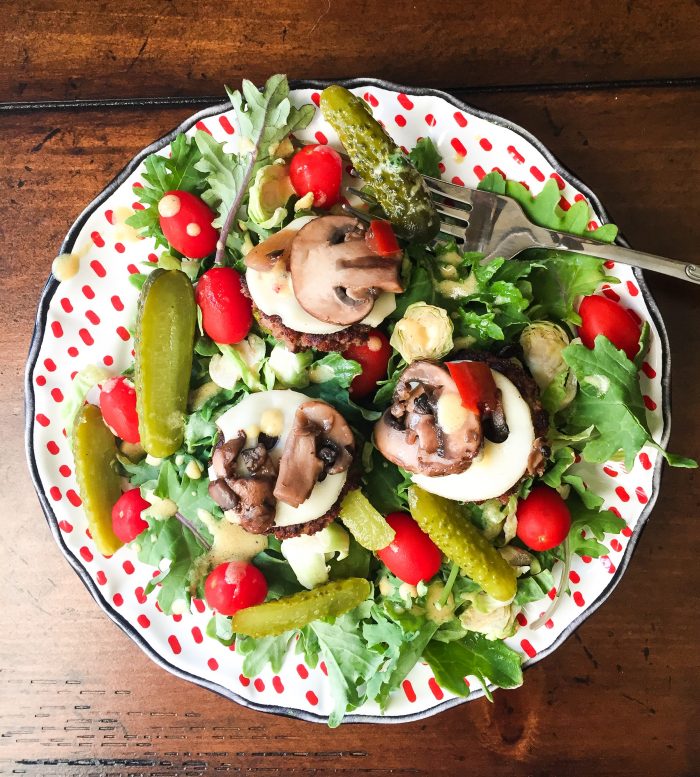 Mini Mushroom Swiss Burger Salad
You saw this coming, right? The girl who puts hot dogs, falafel, and pastrami on a salad is obviously going to make a burger salad. And this one is something special, because it pays homage to my favorite kind of burger. Say hello to the Mini Mushroom Swiss Burger Salad. This low-carb version of the classic mushroom swiss burger features sautéed mushrooms and melted swiss cheese on miniature grass-fed beef patties. How cute is that?
I love a good old-fashioned cheeseburger. And thankfully, burgers translate well to a low-carb, gluten-free lifestyle. It's not too difficult to order a lettuce-wrapped burger from a traditional restaurant. Sometimes the lettuce doesn't work all that well and you end up with ketchup and sauce on your hands (hypothetically speaking, of course), but eating a burger with a fork and knife is totally doable. That juicy and delicious burger patty is the best part anyway.
The downside to ordering a burger at a restaurant (lettuce-wrapped or not) is that you open yourself up to some unhealthy ingredient possibilities like bad oils, low-quality meat, and potential fillers. There are many restaurants that are wonderfully transparent with their ingredients and don't make it an issue. But for anything that's not homemade, you run the risk of adding a less-than-clean element to your dinner plate. Obviously, you can't worry about it all the time. Sometimes you just gotta eat the burger, no questions asked. However, if you want a clean, gluten-free, and pretty darn healthy substitute for a restaurant-style burger, this Mini Mushroom Swiss Burger Salad is it.
the process
Like most Edited Kitchen recipes, Making this Mini Mushroom Swiss Burger Salad doesn't take a lot of effort or time. In fact, this recipe has a shortcut that makes cooking the burgers and assembling the salad a breeze.
Here's the secret: I use frozen, pre-cooked grass-fed beef patties. Since they're frozen, I recommend choosing quality beef patties; I like to buy them from the magical warehouse store that is Costco. The burgers that I use (Don Lee Farms) take about 10 minutes to heat from right out of the freezer, which is lovely if you've forgotten to defrost the chicken you were planning on having for dinner that night (hypothetically speaking). You won't need to mix and season the ground beef or form the patties.
Bonus: Pre-cooked burgers are also much easier to cut into cute little patties. To make these into mini patties, simply cook the burgers for about 80% of the allotted cooking time. Then, use a small biscuit cutter (or in my case, the top of a large spice jar) to cut out the patties. Use the same cutter (or jar top) to slice your cheese into circles. Top the burgers with the cheese, and cook long enough to melt the cheese.
The final element that amplifies these mini burgers is the sautéed mushrooms. By quickly sautéing mushrooms with a little bell pepper, onion, and salt and pepper, you get a savory combination that pairs incredibly well with beef (and swiss cheese). Seriously, why are mushroom burgers just so good?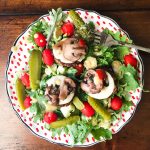 Mini Mushroom Swiss Burger Salad
Ingredients
2

frozen

precooked grass-fed beef patties

2

pieces

swiss cheese

2

tbsp

olive oil

1/2

cup

baby bella mushrooms

sliced

1/4

cup

onion

diced finely

1/4

cup

red pepper

diced finely

8

ounces

baby kale or mixed greens

1/2

cup

grape tomatoes

1/2

cup

shredded brussels sprouts

8

petite dill pickles

sliced in half
For the tangy dijon mustard vinaigrette
2

tbsp

dijon mustard

Juice from 1 large lemon

about 1/3 cup

3

tbsp

olive oil

Salt & pepper to taste
Instructions
Sauté onions, mushrooms, and bell pepper with salt and pepper in a medium-sized pan over Medium-Low heat

Cook mushroom mixture until cooked through (onions will look transparent, and mushrooms will shrink down quite a bit)

Once mushrooms are done, take out of pan and place on a plate to cool

Add burgers to pan, and heat on one side for 5 minutes (or the amount of time designated on your frozen patties)

Flip burgers and cook on other side for 3 minutes

Cut burgers into slider-sized circles using a small round biscuit cutter (or spice jar top as I did); cut swiss cheese into same-sized circles and top burgers with cheese

Finish cooking burgers for 1-2 minutes, until cheese melts

To make vinaigrette, whisk all ingredients together in a small bowl or mason jar

Drizzle vinaigrette over assembled salads of kale, tomatoes, shredded brussels sprouts, and dill pickles

Finish each salad with 3 mini burger patties and sautéed mushrooms on top