Small-Step Meal Prep: Curry and Apple Tuna Salad
I hesitate to use the term meal prep again, because the strategies I use might make the hardcore "meal prepper" roll their eyes at me. But, I think adopting a "small-step meal prep" philosophy is a great way to make your week and meal planning a little bit easier. Today, I want to talk about one piece of that mini meal prepping strategy (spoiler alert: it's all about PROTEIN). And I'll give you a super quick, easy, and non-boring tuna recipe to help put this strategy into practice (spoiler alert: it's Curry and Apple Tuna Salad. I'm not good at keeping secrets).
So let's talk about protein. As I've mentioned before, I think it's important to prioritize protein when you're planning meals for the week ahead. Good, clean protein is key to a healthy lifestyle: it gives you energy, helps you stay full and avoid over-snacking, and is imperative for building muscle and managing weight. Of course, you want to complement that protein with lots of good non-starchy veggies like dark leafy greens, but having ready-to-eat protein on hand is key to staying on track for the week ahead.
Protein is also a big help in managing sugar and carb cravings. I'm not telling you to eradicate all dairy, fruit, starchy veggies, gluten-free grains, and treats like dark chocolate from your refrigerator or pantry. But if sugar cravings are calling out to you daily (been there, done that), filling up on good-quality protein during the week will help you manage that addiction.
One quick sidenote. When talking about protein, I'm mostly referring to whole protein like good-quality chicken, fish, grass-fed beef, and turkey. There's a time and a place for protein powders and supplements (personally, I'm a big fan of adding powdered collagen to my coffee). But in general, it's good to view those sources of protein as supplements rather than meals. Just eat whole, real foods when you can.
the process
Getting protein ready for the week as part of your small-step meal prep is a whole lot easier than you think. Say hello to tuna salad. It's high in protein, versatile, quick to whip up, and super inexpensive. Plus, it's pretty tasty. I love having tuna on hand if I ever need some quick protein for a salad. It doesn't require any sautéing, hard-boiling, or roasting. You just open up a can, drain, and mix with whatever you have on hand. Low-maintenance food is the BEST.
And this Curry and Apple Tuna Salad is a keeper because it's a fun, non-boring riff on tuna. It's perfect over a pile of leafy greens or on a gluten-free wrap or sandwich. I like to keep a big glass container with tuna salad in my fridge for the week ahead and use it in salads or on a piece of gluten-free bread (preferably toasted, with cheese melted on top).
The ingredients for this one are probably already in your refrigerator and pantry. And like many of my recipes, you can customize it based on what you have or what you like. You'll just need a few main ingredients: tuna (obviously), lemon (or another acid), and a creamy, neutral-flavored component (like mayo or yogurt) to bring everything together. To up the protein in this recipe, I've subbed high-protein, full-fat greek yogurt in for the mayo. But if you're dairy free, you could always sub in avocado oil mayo.
The flavors for this Curry and Apple Tuna Salad really can't be beat. For this recipe, the curry adds a nice little bite, and the crunchy diced apple and handful of raisins add a sweet punch that complements the tangy flavor of the greek yogurt. And best of all, this recipe takes just 10 minutes. Small-step meal prep conquered.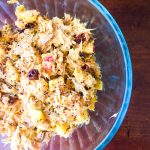 Curry and Apple Tuna Salad
Servings
4
-5 servings of salad
Ingredients
2

cans of tuna

approx. 12 ounces total

1/2

apple

diced (I typically use Fuji or Gala, but Granny Smith would be great here as well)

1

large lemon

juiced

3

tbsp

plain full-fat greek yogurt

1/4

cup

raisins

2

tsp

curry powder

I use the organic salt-free blend from Sprouts

Salt & black pepper to taste

I use about a teaspoon of each, but admittedly I like food a bit saltier and more peppered than your average Joe
Instructions
Drain tuna, and add to a medium-sized bowl

Use a large fork to break up tuna into small pieces

Dice apple into small-sized cubes, and add to tuna

Add lemon juice, greek yogurt, curry powder, raisins and salt and pepper to tuna and apple mixture

Combine all ingredients thoroughly and top with more black pepper (if you like)

Store in an airtight glass container and refrigerate until ready to use (it should last about a week)