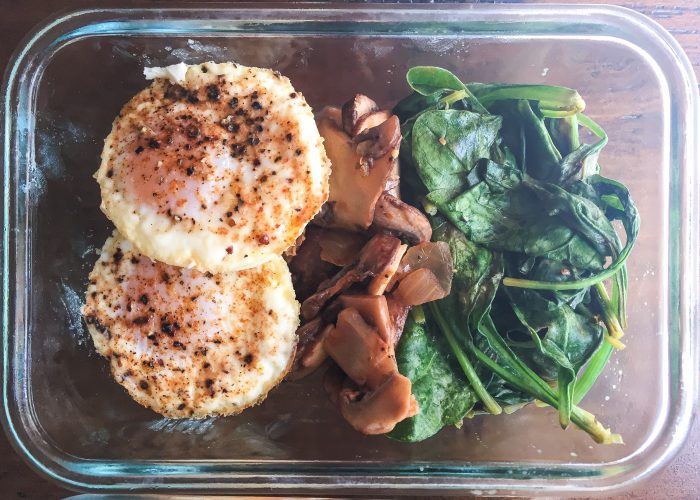 Small-Step Meal Prep & Make-Ahead Baked Eggs
For this latest installment in Editing Your Kitchen, I'd like to tackle a topic that is a huge help in getting organized for the week: Small-Step Meal Prep. And the keyword here is "small step." My philosophy on meal prep and organization (as with most things) is to start small and keep it simple. As the old adage goes, don't bite off more than you can chew.
When you prep just a couple of meals or ingredients ahead of time, it can be a real lifesaver. That's not to say that I'm against full-scale meal prep. Any form of meal prep or planning is incredibly helpful in the long-run if you're trying to adopt or maintain a healthy lifestyle (i.e., you're less likely to stop at a drive-thru if you have a healthy salad ready in your fridge).
However, while I'm sure it's a lovely thing to have your fridge locked and loaded on Sunday with 21 individually portioned meals; realistically, that's not always doable. Sometimes the weekend gets away from you. Sometimes you feel a little stressed and don't need another item on your to-do list (speaking from experience here). And sometimes…you just need a break.
So I've put together a few doable, realistic, and hopefully helpful meal planning tips that will simplify your week and, more importantly, help you keep your sanity. Then, scroll down for an easy breakfast recipe that you can use to kick off your small-step meal prep.
5 Small-Step Meal Prep Techniques
Utilize leftovers. If you've just made chicken for dinner (like my Simple Lemon and Dijon Mustard Chicken), there's no reason why you can't use that in a couple lunches for the week. After you've had dinner and before you clean up, start portioning out the meal and set aside in individual containers. Guess what? You just meal prepped.
Tackle one mealtime. You don't have to plan ahead for every single meal of the week. A good technique is to cook or assemble a few servings of just one meal that you want to have ready for the week. For me, this usually means making 3 to 4 salads to take to work. Because when I get up in the morning, the last thing I want to do is make my lunch. Drinking coffee and squeezing a workout in are the priority. Salad is not.
Prioritize protein. Making clean protein available in your fridge every week is key to supporting a healthy lifestyle. Just think of it as the centerpiece of your meals that week. I usually make a big batch of chicken at the start of the week so I can use that for lunches and dinners. But any clean protein is a safe bet here: tuna, salmon, grass-fed ground beef, etc.
Emphasize veggies. Your mom was right: you really do need to eat your vegetables. And the best way to make that happen is to have raw veggies, a big bag of mixed greens or spinach, or cooked veggies on hand for the week ahead. You can take this a step further by making a bunch of cooked veggies or sautéed greens at the start of the week, and use those in your breakfasts, lunches, and dinners. My technique of choice is roasting them because it's pretty hands-off and yields some pretty flavorful veggies.
Know thyself. If you have no problem making yourself a healthy breakfast every morning, you probably don't need to worry about meal prepping a couple eggs with veggies or greek yogurt and gluten-free granola. But, if dragging yourself out of bed and making one more thing sends you through the roof, you might want to prepare a few breakfasts for the week on Sunday night.
And as luck would have it, I have an easy make-ahead breakfast recipe just for you.
Make-Ahead Baked Eggs w/ Greens
Servings
6
individual meal portions
Ingredients
Coconut oil

ghee or butter

12

eggs

Seasoning salt

preferably with no additives or fillers - I like Trader Joe's Seasoning Salt

Pepper

Spinach or mixed dark greens

roughly 8-10 ounces

Lemon

Leftover veggies if desired

e.g., roasted brussels sprouts, pre-cooked mushrooms, etc.
Instructions
Preheat oven to 350 degrees Fahrenheit

Grease or spray a muffin tin with the coconut oil, ghee, or good-quality butter

Crack eggs into muffin tin

Season to taste with seasoning salt and pepper

Place eggs in oven to bake for 20 minutes (NOTE: These eggs come out HARD. This helps them stay good for the week ahead, and I personally like them a bit harder)

While eggs are baking, begin sautéing spinach or mixed greens

Add coconut oil or ghee to a nonstick pan over Low heat, then add spinach

While cooking, add salt, pepper, and lemon juice to spinach

Cook over low heat until cooked, but not completely wilted

Assemble into glass containers, with eggs, spinach and leftover veggies (if you have some on hand)