Could there be a more perfect food than pizza? I submit that there is not. And the next best thing to having a big crusty, cheesy slice of pizza is Pepperoni Pizza Chicken. This recipe raises the bar on "weeknight chicken" by adding homemade pizza sauce, lots of Italian spices, and melted mozzarella cheese and pepperoni on top. If your weakness for pizza runs deep (like mine does), you'll want to make this again and again. For a quick and healthy, protein-packed meal that tastes incredibly decadent (and is also gluten-free, grain-free, and low-carb), Pepperoni Pizza Chicken is where it's at. Healthy Italian comfort food at its finest.
the process
Even though Pepperoni Pizza Chicken involves making homemade pizza sauce and chicken, don't let those two steps scare you away. It's quick and easy to put together on a Monday night. The homemade pizza sauce is beyond simple (and you likely have most of the ingredients for it already). And the chicken? It takes less than 20 minutes to cook and just a little seasoning (since you're putting the pizza sauce on top). Lastly, if I haven't already mentioned this, this chicken tastes like pizza. So every effort you make with this meal is totally worth it.
For the homemade pizza sauce, I like to make it prior to the chicken because it holds up nicely when you simmer it over low heat for a while. So while you're prepping the chicken, just let your stovetop work its magic and cook the sauce covered over low heat. It's incredibly difficult to screw up pizza sauce or any kind of marinara sauce unless you cook it on super high heat and never stir it, so rest easy. Just let it simmer for a little bit and stir occasionally. You'll be good, I promise.
For the "Pepperoni Pizza" part of this chicken, I like to use a clean, nitrate- and nitrite-free pepperoni. Applegate Farms is my favorite brand, because they have mini pepperonis that are a breeze to put on top of this chicken. To assemble, you'll want to add the sauce on top of the chicken while it's still in the pan, then top with a little cheese and pepperoni and cover for about a minute. This gets it all melty and delicious. On a related note, if you ever have a meal that doesn't turn out quite the way you hoped, just add cheese on top. Cheese fixes everything.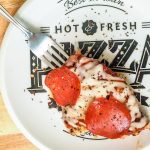 Pepperoni Pizza Chicken
Ingredients
For Pizza Sauce
1

tbsp

olive oil

1/2

cup

chopped onion

1/2

cup

diced baby bella mushrooms

1

can

15 oz organic tomato sauce

1

tbsp

fennel seed

1

tbsp

basil

1/2

tbsp

oregano

1

tsp

crushed red pepper flakes

Salt and pepper

to taste
For Chicken
6-8

small boneless chicken breasts

or 3-4 large breasts cut in half

1

tsp

dried basil

1

tsp

salt

1/2

tsp

pepper

1/2

cup

chicken stock

Organic

uncured pepperoni (Applegate is my all-time favorite)

1/4

cup

shredded mozzarella cheese
Instructions
Heat 1 tbsp olive oil in a small saucepan over medium heat

Add chopped onions and mushrooms to pan and saute until softened

Pour in tomato sauce and stir in all spices and salt and pepper to taste. Lower heat and cover

While pizza sauce is cooking over low heat, make the chicken

Heat 1 tbsp olive oil in a large skillet or pan over medium-high heat. Add basil, salt, and pepper to chicken breasts and cook each side for 3-4 minutes (depending on the thickness of the chicken)

Add chicken stock to pan and lower heat. Cover and let cook for 10 minutes.

When chicken is done, spoon pizza sauce over the chicken breasts and sprinkle cheese on top

Add 2-3 pepperonis on each piece of chicken and cover for about a minute to melt cheese

Serve with a sprinkle of dried basil or crushed red pepper flakes