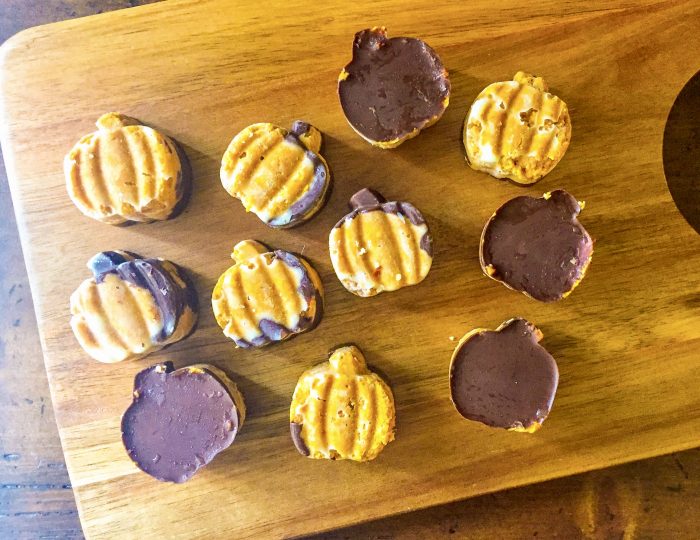 Spiced Pumpkin Butter Cups with Collagen
Oh, how I love fall. While autumn in Orange County tends to be pretty warm and not nearly as crisp as I would like, come mid-October and November, I'm a happy camper. Just give me a hot cup of coffee, a cozy scarf, and the smell of apples and cinnamon in the air, and I'll be feeling good. And of course, I'll take a pumpkin treat, too. These Spiced Pumpkin Butter Cups with Collagen are the creamy, comforting answer to that healthy pumpkin treat you need in your life to "feel like fall." These Pumpkin Butter Cups combine three of my favorite sweet treats: pumpkin, coconut, and dark chocolate, and they're extra nutritious with the addition of collagen. They're also dairy-free, nut-free, gluten-free, and refined sugar-free. And yes, they're still delicious. Plus, if you make them in mini silicone pumpkin molds (like these), you can admire how cute they are. Aww, look at the little pumpkins.
A little sidenote on collagen here. I know that there are a million superfoods and supplements that seem to go in and out of popularity on a monthly basis. That kind of thinking can get incredibly overwhelming (I need to add how much kale to my diet to get my recommended daily intake of magnesium?!). But if you can incorporate a few superfoods and nutrition-packed ingredients here and there, I say go for it. And on that note, I really like to add collagen to my diet whenever I can, because of its long list of benefits. I don't claim to be a scientific authority on the subject (I'm a cooking blogger, not a scientist or doctor), but I'm a bit of a nerd when it comes to learning about health and nutrition. And when I see multiple studies showing how incredible collagen is across the board for your joints and skin, I have a little faith in my container of hydrolyzed collagen (I like Great Lakes Gelatin brand, if you're looking for a recommendation). So go with that, and just don't stress about adding 100 superfoods to your diet all at once.
And scientifically speaking, collagen also tastes really great when it comes in the form of a dark chocolate pumpkin butter cup.
the process
Just so we have this out of the way, Spiced Pumpkin Butter Cups with Collagen are quick and easy to make, but you'll need to let them harden in the freezer for awhile before they're good to go. I like to leave them overnight, just to be sure they come out in one piece. If you have the patience of a 4-year-old child, this might be a problem. I just wanted to put that out there. But you could always make a double batch of the pumpkin butter and eat that while you're waiting. You're welcome.
With that said, these Spiced Pumpkin Butter Cups don't involve much legwork at all. The pumpkin butter comes together in just about 8 minutes in a food processor, and the spiced dark chocolate ganache (which is also dairy free, thanks to Enjoy Life dark chocolate chips and coconut oil) is so much easier and faster to make than you think. It's a bit thinner than your standard ganache (given that there's no cream in it), but it works perfectly in these tasty little treats.
When you're filling the silicone molds, make sure you get all those cracks and crevices filled out. This may not sound like rocket science, but since the pumpkin butter is pretty thick in texture, you'll need to use your spoon to ensure the mixture gets to the bottom of the molds. Other than that quick tip, these are pretty fail proof. Just mix, melt, and put them in the freezer. And then, enjoy these delicious dark chocolate and pumpkin treats. Happy Fall.
Spiced Pumpkin Butter Cups with Collagen
Ingredients
For pumpkin butter
Coconut oil spray

for greasing silicon molds

1

cup

shredded unsweetened coconut

1/3

cup

pumpkin

2

tbsp

collagen

2

tbsp

maple syrup

1

tsp

cinnamon
For dark chocolate ganache
1/4

cup

Enjoy Life Foods dark chocolate chips

2

tbsp

coconut oil

1/2

tsp

cinnamon
Instructions
Spray silicone mold tray with coconut oil spray

Add shredded coconut to a food processor, and process for 5 minutes on high

Scrape down bowl and add pumpkin, collagen, maple syrup, and 1 tsp cinnamon to food processor; process for 3-4 minutes on high

Spoon mixture into molds, filling about halfway full

Place tray in freezer for about 20 minutes

While tray is in freezer, make the dark chocolate ganache

Bring a pot of water to the point of simmering, and place a glass bowl on top

Add chocolate, coconut oil, and cinnamon and stir slowly until chocolate is smooth

After 20 minutes has passed, take silicone molds out of freezer and spoon melted chocolate over each cup, making sure to fill all cracks

Place in freezer at least 2 hours or until hardened (I left them in the freezer overnight)

Pop out of the molds and store in a ziploc bag in your fridge or freezer