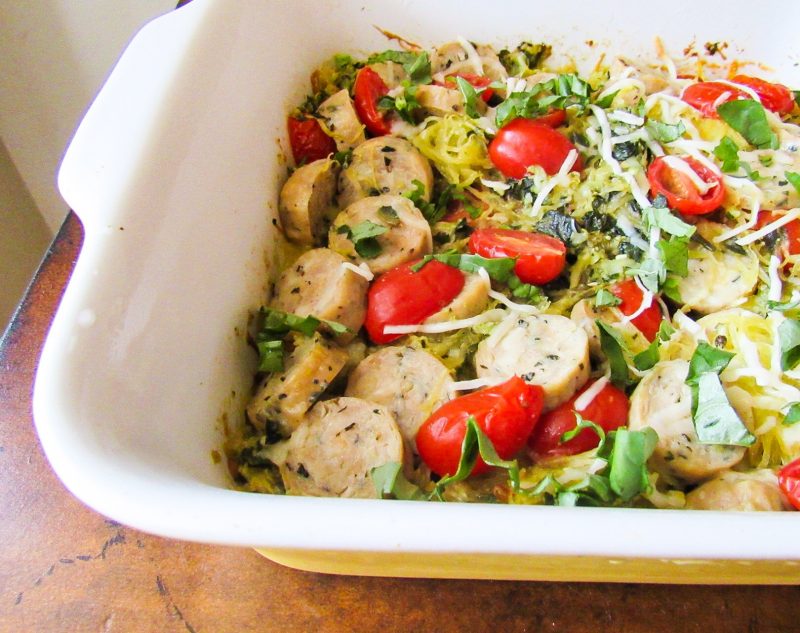 Pesto Spaghetti Squash and Sausage Casserole
I'm going to predict that this Pesto Spaghetti Squash and Sausage Casserole will make your weeknight dinner "shortlist" once you've tried it. Because it made it to mine after my first attempt. Why would I be so bold to make this prediction?
Reason #1: It's delicious (priorities).
Reason #2: It's low-carb and super healthy (zero grains, veggies, hearty protein, and just a little dairy).
Reason #3: It's simple and easy to make. Just 5 main ingredients.
Reason #4: Once you try this method of cooking spaghetti squash, you'll never make it any other way….
OK. Ready for the easiest way to make spaghetti squash? Just pop the whole thing (or two small ones) into your Instant Pot and leave. SERIOUSLY. The full scoop: Prick your spaghetti squash with a fork (not mandatory, but I do it just to be safe). Add one cup of water and your spaghetti squash to your Instant Pot. Manually set it to 20 minutes on high pressure. Once it's done, let it release naturally for 10 minutes. Then, carefully take it out using tongs and slice in half (100% easier than slicing it before cooking). Scoop the seeds out and then use a large spoon or fork to get the squash out. You can store in a container in your fridge two to three days before you make the casserole, or just use it immediately.
Amazing, right? But I digress. This casserole will also make your weeknight dinner shortlist because it's ideal for families and picky eaters, great for last-minute company, and it easily transforms into the most delicious leftovers to bring to work or school the next day.
What makes this one so yummy? Simplicity is the key here. While I love putting together fun meals with lots of unique vegetables, exotic spices and out-of-the-ordinary proteins, I'm a sucker for a SUPER simple veggie and protein meal with a great sauce. And that pesto always seals the deal for me. You can make your own (like my version here) , or use a jarred version. To be honest, I haven't been able to find a junk-free jarred version that I like (send me your recommendations!), but convenience-wise, sometimes you just gotta use a jar.
the process
As mentioned above, even if you make every element from scratch (meaning the pesto and spaghetti squash; I'm not talking about making your own sausage here…this isn't Top Chef), this Pesto Spaghetti Squash and Sausage Casserole is so easy to make. You can even assemble all of the ingredients ahead of time and pop it in your fridge to make the next day. And if you're really in a last-minute bind, just get a container of already prepped spaghetti squash (usually in the prepped veggies section of your grocery store), grab a jar of pesto and throw it together with some sausage and parmesan.
Now let's talk about the sausage. While I hesitate to call this a semi-homemade recipe, using precooked organic chicken sausage or Italian sausage makes this meal a total win. I almost always have a couple packs of clean or organic (and always grain-free) sausage in my freezer for these kinds of meals. I love Sabatino's Paleo Organic Basil & Cracked Black Pepper Chicken Sausages, and of course, I'm a lifelong fan of all Teton Waters Ranch sausage.
The last tip I can give with this SUPER easy casserole is to make sure you coat the spaghetti squash thoroughly with the pesto. You want to make sure that all of the "noodles" are bursting with that basil and garlic flavor. You won't regret it. Now go and make this quick and yummy casserole already.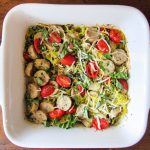 Pesto Spaghetti Squash and Sausage Casserole
Flavorful pesto meets spaghetti squash in this low-carb, 5-ingredient meal that will make your weeknight dinner "shortlist."
Ingredients
Coconut oil spray or olive oil spray

1

Cooked spaghetti squash

See above instructions for Instant Pot method

¾

cup

fresh or pre-made pesto

4

Italian sausages or chicken sausages

Sliced into 1/2 inch pieces

15

Grape tomatoes

Halved

Optional: Grated parmesan and fresh basil for topping
Instructions
Preheat oven to 375 degrees Fahrenheit.

Spray medium or large casserole dish (13 X 5 should be fine for this one) with coconut oil or olive oil.

Add cooked spaghetti squash, spreading out to fit entire pan (should be halfway full).

Spoon pesto over spaghetti squash and mix together, until spaghetti squash is coated thoroughly.

Scatter sliced sausages and tomatoes evenly, distributing around spaghetti squash.

Top with a sprinkling of parmesan cheese and bake for another 5.

Serve with a slotted spoon and garnish with parmesan and fresh basil.