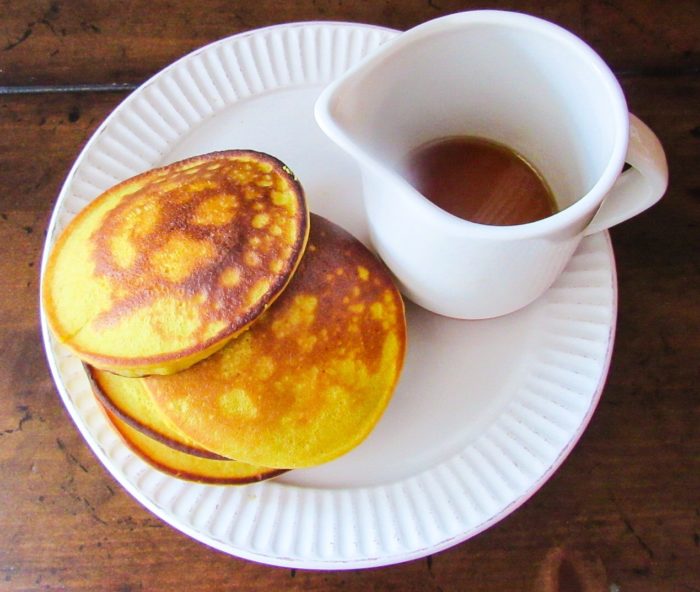 Keto Turmeric Spice Pancakes With Low-Carb Syrup
Pancakes, bacon, eggs, sausage, doughnuts. Could there be anything more perfect than breakfast food? I would say no. No, there is not. But keeping breakfast clean and nourishing, PLUS delicious and indulgent can be tricky. And can you make it low-carb and keto-friendly as well? Well, I'm here to tell you that it's 100% possible. Start with these Keto Turmeric Spice Pancakes with Low-Carb Syrup.
These low-carb and keto pancakes are unexpectedly and totally delicious with a flavor and texture that's reminiscent of spice cake. Even though they are keto-friendly, you wouldn't guess that, since they are every bit as moist and pillowy as your favorite flapjacks. "Too early for flapjacks?" If you get that movie reference, we'll be best friends forever.
These also have a delicious, buttery monkfruit-sweetened syrup that comes together with four ingredients, just Lakanto's delicious golden monkfruit sweetener (like brown sugar), water, vanilla, and a little ghee. No, it's not maple syrup, but with a buttery, lightly sweet flavor, and zero glycemic impact, it really can't be beat. (P.S. If you use this link and type in my code EDITEDKITCHEN at checkout, you'll get 15% off your order. Do it!)
Ok, all that to say I'm also a big, big fan of portable, make-ahead breakfasts, and these are pretty fantastic for reheating the next day. I have far too many mornings where I'm in a hurry to get to work and just don't have time to get breakfast together (which is why I typically have make-ahead eggs ready every single week). I have to say, throwing a couple of these delicious pancakes in the microwave for 30 seconds and then having them with a big cup of coffee is a lovely thing.
the process
For any low-carb pancakes, the real trick is getting the batter VERY well blended. Because you're typically using thicker ingredients as the base (like cream cheese and eggs), it's a good idea to mix your batter using a blender or immersion blender. Personally, I prefer an immersion blender because it's compact and easy to wash. And let's be real, it's on a lower shelf in my kitchen too.
As far as the ingredients for this one, make sure you include baking powder (not baking soda). I've tried several grain-free pancake recipes and the baking powder is really key to getting that fluffy, pancake-like texture. Trust me on this one.
For the spice cake-like flavor and huge nutritional benefits (all that anti-inflammatory goodness), I highly recommend you use Further Food Turmeric Tonic. Not only does it have some of my favorite spices like turmeric, ginger, and cinnamon, but it has an extra boost of adaptogens with boswellia and schisandra berry. Order it on Further Food's website with my code DEBORAHNOEL10, and you'll get 10% off your first order).
Keto Turmeric Spice Pancakes with Low-Carb Syrup
These easy Keto Turmeric Spice Pancakes with Low-Carb Syrup are reminiscent of spice cake with a fluffy texture and low-carb, monkfruit-sweetened syrup. Plus, they come together quickly and easily, with just a few ingredients.
Ingredients
Keto Turmeric Spice Pancakes
4

ounces

cream cheese

Softened in the microwave for 30 seconds

2

tsp

vanilla extract

1/2

cup

almond flour

1/4

cup

coconut flour

2

tbsp

Lakanto Golden Monkfruit Sweetener

1

tsp

baking powder

2

scoops

Further Food Turmeric Tonic
Low-Carb Golden Monkfruit Syrup
1

tbsp

Lakanto Golden Monkfruit Sweetener

2

tbsp

water

1

tsp

vanilla extract

1

tsp

ghee
Instructions
For Pancakes
Begin heating up coconut oil, butter or ghee in a large skillet or griddle pan over medium heat.

Add cream cheese to your immersion blender container (make sure it's microwave safe) and heat in the microwave for 30 seconds to soften.

Add all ingredients to the immersion blender container and then blend together for 30 seconds until it is a smooth, creamy consistency.

Make pancakes in batches by spooning or pouring batter onto griddle or skillet. Flip when bubbles begin to emerge on the uncooked side (about 4-5 minutes).

Cover pancakes with foil to keep warm and serve with butter and syrup.
For Syrup
Add all ingredients to a small microwave safe pitcher or container.

Microwave for 30 seconds and whisk together. Serve over pancakes.