Small-Step Meal Prep: Easy Turkey and Mushroom Bolognese
For me, Sunday night dinner means making a meal that can be repurposed for the week ahead. So for this round of small-step meal prep, I'm talking about an easy, hearty, and delicious Italian dinner that can be portioned out for the work week. Say hello to Easy Turkey and Mushroom Bolognese. And when I tell you that I make some version of this Italian meat sauce a lot, I mean it. Making meat sauce has been a staple for me since I started to cook for myself.
Easy Turkey and Mushroom Bolognese requires just a few simple ingredients, is budget-friendly, and checks all the healthy boxes on your list. Gluten-free and grain-free? Check. Dairy-free? Check. High in lean protein? Check. Full of hearty veggies? Check. However, for what it's worth, eating healthy shouldn't necessarily be a list of restrictions or obligations. You should just be eating what's right for your respective body and taking care of it without making yourself go crazy. And sometimes you need to give yourself a break from the calculations and list-making. I know that's a lot to ask, but it's going to be better in the long-run, I promise you.
Setting aside that little note, I want to reiterate how simple, tasty and hearty this meat sauce is. And you can pair it with anything (well almost anything, I'm not sure it should be added to your oatmeal in the morning). Personally, I like to top a bunch of raw spinach with it or put it over cauliflower rice when I'm eating on the lower carb side. But it's also a total crowd-pleaser when you pair it with gluten-free pasta (like Jovial's brown rice spaghetti).
the process
Easy Turkey and Mushroom Bolognese is true to its title; it's very easy to make and it comes together very quickly. But if you want a really well-developed flavor, you're going to need a little bit more time. The best Italian sauces I've made have sat on the stove cooking over low heat for more than the initial 20 minutes it takes to get everything cooked and ready to go. Sometimes this has been intentional and sometimes it has been accidental (who hasn't gotten distracted by something while they're making dinner?!). In any case, letting this one simmer slowly for awhile allows it to deepen its flavor and meld all those ingredients together. I also find that the tomatoes taste much less acidic when they've been cooking with the turkey and veggies for a good amount of time.
Another thing to keep in mind for this Easy Turkey and Mushroom Bolognese: You don't need to follow my recipe to a T to make a standout Italian meat sauce. Personally, I've made a similar bolognese recipe with beef instead of turkey. I've made it without mushrooms. I've made it with more spices, and I've made it with less. This is a "choose your own adventure" kind of recipe. I've learned that a good portion of cooking simple, healthy, and tasty meals is learning how to use what you have and modify as needed. That means if you have celery instead of mushrooms and shallots instead of garlic, by all means try it out and see what it tastes like! Cooking is not always a paint by numbers situation, and my goal is to inspire rather than dictate.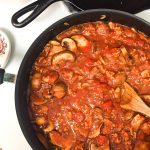 Small-Step Meal Prep: Easy Turkey & Mushroom Bolognese
Ingredients
1

lb

organic ground turkey

1

tbsp

avocado oil or olive oil

2

cups

sliced portobello mushrooms

1/2

yellow onion

diced

3

large cloves garlic

pressed or minced

2 15

oz

cans tomato sauce

1 15

oz

can diced tomatoes

1

tbsp

fennel seed

2

tbsp

basil

2

tbsp

oregano

Salt and pepper

to taste
Instructions
Add oil and onions to large dutch oven or skillet and sauté over medium-high heat until onions are transparent

Lower heat to medium and add mushrooms and garlic. Sauté for a couple minutes

Add ground turkey and cook until no pink remains

Mix in tomato sauce, tomatoes and all spices. Cover and cook over low heat for 20 to 25 minutes, stirring occasionally

After tasting and adding spices or salt as needed, serve over veggies, mixed greens, or gluten-free pasta