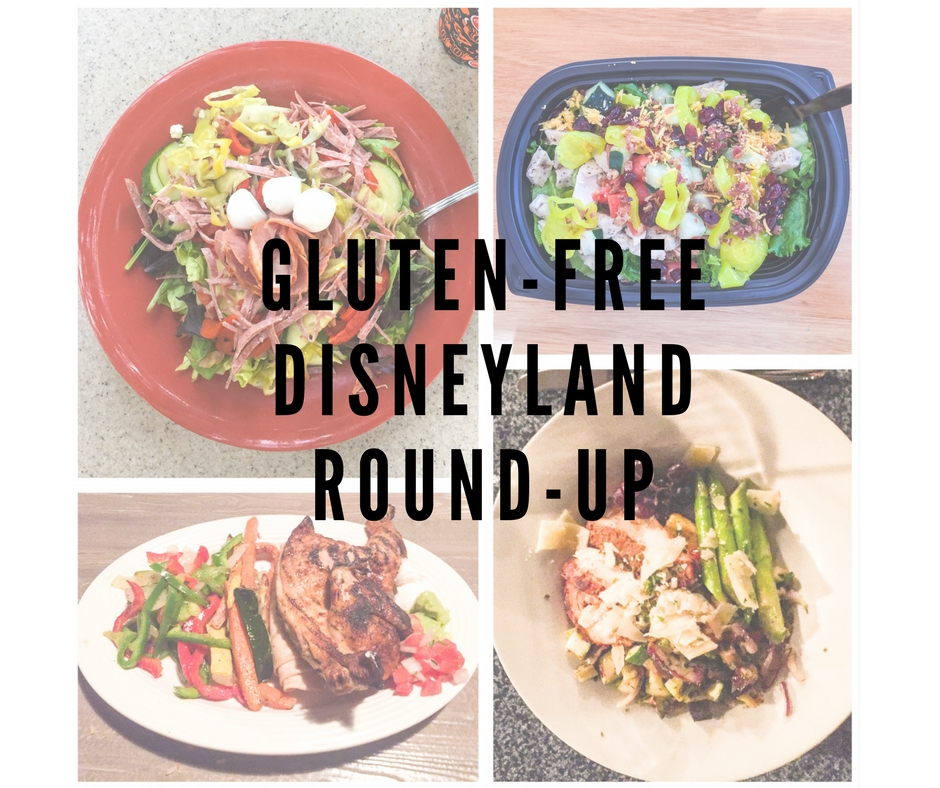 Edited Restaurants: Gluten-Free Disneyland Round-Up
As a bit of a departure from my typical recipes and organization beat, I want to talk about something serious, something important, and something essential to your health: What to eat at Disneyland if you're gluten-free.
All kidding aside, eating out and finding healthy options wherever you go is a huge part of an "edited" lifestyle. And when you're in the Happiest Place on Earth, it's even more vital that you don't face the dreaded menu anxiety (e.g., Where's the hidden sugar? Does the sauce include canola oil? Will they give me a sandwich without the bun and the sauce on the side, or is everything ready-made?). So that's why I created this Gluten-Free Disneyland Round-Up.
As a Southern California native, Disneyland is a happy, nostalgic place for me. It made up most of my vacations as a kid and many date nights as an adult. And as an Orange County resident, I go there after work more times than I should probably admit. So I thought it would be appropriate to document some of my favorite gluten-free food options. This is not an exhaustive list by any means, but it includes some of my favorite options.
A quick disclaimer here: While I am highly gluten-sensitive, I do not have Celiac disease or an autoimmune condition. For the most part, Disneyland is very accommodating towards allergies, but your experience and options might be just slightly different than mine. No matter where you eat out, never be afraid to ask questions or request certain changes to menu items. Now without further ado, here's my non-exhaustive Gluten-Free Disneyland Round-Up:
Disney California Adventure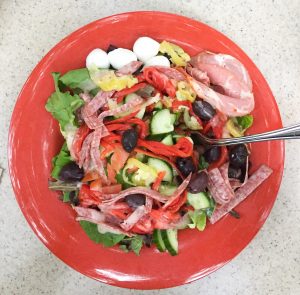 Boardwalk Pizza & Pasta
I know what you're thinking. Really? You start off a gluten-free round-up with PIZZA and PASTA? Yes. Yes, I do. Turns out this is one of the best gluten-free friendly places at Disney. They have a full allergy-friendly menu with gluten-free pasta and pizza. But my go-to, low-carb and gluten-free option is the Italian Chef Salad. I'm a die-hard fan of Italian deli meats, and this salad pulls out all the stops with salami and capocollo, plus it features fresh mozzarella, pepperoncinis, olives and cucumber. I'm not actually a fan of the salad dressings they use here (not the cleanest kind you could eat). But they have oil and vinegar available if you ask! And you can always bring your own, too.
Carthay Circle
Carthay Circle is all about the ambiance (old school 1920's Hollywood, which is near and dear to my heart) and is definitely a "special occasion" restaurant in terms of pricing. But for that birthday dinner or anniversary meal, this one cannot be beat. With a dedicated allergen-friendly menu, they have a long list of gluten-free meal options. But the gluten-free favorite I'm going to highlight here is their magical gluten-free garlic bread. I've certainly had gluten-free bread or rolls offered at other restaurants, but this one is something special. They toast it with olive oil, garlic, and herbs, and my gluten-eating boyfriend proclaimed it was "better than the regular bread." You've got to try their bread.
Award Wieners
When it comes to classic American foods, I still love a good hot dog (as indicated by my hot dog salad), so I'm going to go ahead and give a big shout-out to the fact that you can get a hot dog on a gluten-free bun at California Adventure. Plus, they've got some great gourmet options here, like the Bacon Street Dog or Spicy City Dog. Is it the most expensive hot dog you'll order? Maybe. Does it hit the spot if all you really want is a hot dog? Absolutely.
Cocina Cucamonga Mexican Grill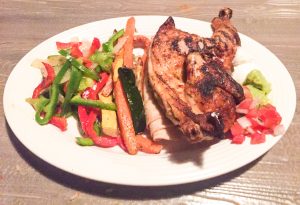 Cocina Cucamonga is one of the standout gluten-free options at DCA. And while I love Disneyland's Rancho del Zocalo, I actually prefer a couple of the options here. They very recently overhauled their menu, but the quality and options should still be the same, so I've included both names here. The majority of their items are served with corn tortillas instead of flour (yay), but if you want to go sans tortillas altogether, they're usually very accommodating. For instance, one of my go-to's is the Citrus Roasted Chicken (now called Achiote-marinated Half Chicken) and while I do eat rice and beans very occasionally, I typically ask for it with all veggies. They serve it with a bunch of delicious veggies, and you get the victory of eating a nearly 100% paleo meal at Disneyland. The Chicken Fajita Salad (similar item is now Ensalada con Pollo) is also a big win. It's super flavorful and big enough to share with another person.
Disneyland
Cafe Orleans
For what it's worth, I prefer California Adventure for gluten-free food options, but you can go pretty much anywhere around the Happiest Place on Earth and find something for your fancy. Cafe Orleans is just the ticket for a nice date night. Again, Disney wins with ambiance, with this little restaurant being right in the middle of New Orleans Square (another favorite of mine). I've had a couple of really delicious meals here, including a Vegetable Ragout with Cajun Chicken, right off their allergy-friendly menu. I've also tried a salmon dish here, and while the Garlic Fries are not particularly great for people with gluten allergies (they're not fried separately), I tried them because I'm human and I like french fries. So there's my little PSA. Get them. Get them now. They're one of the best things to eat at Disneyland.
Jolly Holiday Bakery Cafe
Jolly Holiday is a great spot to sit and have a bowl of Chicken Tortilla Soup or a salad and people watch (one of the best things to do at Disneyland). Plus, you get a fantastic view of the castle. They have a decent selection of salads and soups, and they've been super accommodating to my gluten-free needs in the past, too (this was the first place I went to where the chef actually came out to answer my questions about the food!).
Downtown Disney
Earl of Sandwich
The bad news is Earl of Sandwich will likely be gone from Downtown Disney sometime this year. The good news is, Earl of Sandwich is still alive and well in many other cities in California, Florida, and around the world (apparently there's even one in Disneyland Paris!). And Earl of Sandwich has one of my favorite no-frills Cobb salads, Earl's Cobb. It's like they took a poll of all of the toppings I like in a salad (e.g., chicken, bacon, cranberries, cucumbers, cheese) and threw them in there. I may not be an expert foodie, but I can tell you one thing. I'm a Cobb aficionado. If you name a restaurant that has a Cobb salad, I've probably tried it. And for being a pretty basic Cobb salad, this one is great. Pro tip: Ask for balsamic dressing instead of ranch (or bring your own) and request banana peppers (pepperoncini).
Tortilla Jo's
I'd like to add another Mexican restaurant to my Gluten-Free Disneyland Round-Up, because Tortilla Jo's is pretty darn good. If you can't decide on anything in the menu, just order the Tableside Guacamole and dive in. You don't even have to share. Just kidding. I've actually eaten at this restaurant quite a bit (because hey, you don't need a Disneyland pass to go to Downtown Disney) and I'm a big advocate of any of their Fajita de Tres (chicken, shrimp, and steak fajitas). If you're eating paleo, low-carb, or keto, fajitas are the best thing to order at a Mexican restaurant because meat and veggies are still really delicious sans tortillas.
As mentioned, Disneyland, Disney California Adventure and Downtown Disney are all really accommodating to your gluten-free needs. Just ask for an allergy-friendly menu and talk to the cast members. To see the full list of Disney dining options, go here.