Leftover Pumpkin Pie Collagen Smoothie
Open up my fridge at any point in October, November, or December, and there's a 50/50 shot that you'll find a container of leftover pumpkin puree. It is a truth universally acknowledged that whether you're making pumpkin bars, pumpkin cookies, or any other delicious pumpkin-infused treat, you probably won't end up using a whole can. And in my opinion, leftover pumpkin (like most things) should never be wasted. Well, this delicious and satisfying Leftover Pumpkin Pie Collagen Smoothie is the answer to your leftover pumpkin dilemma. It has the spicy sweetness of a perfect slice of pumpkin pie, but without any dairy, wheat, or refined sugar. Seriously. It's that good. Plus, it packs a big nutritious punch with the addition of collagen.
I'm not usually a fan of smoothie chains or juice bars, but I love finding a good pumpkin smoothie during this magical time of the year. And I'm not ashamed to say that the most popular (infamous) smoothie chain of all (Jamba Juice) was the inspiration behind this one. The last time I regularly frequented Jamba Juice was high school, so it conjures up memories of wearing a lot of band T-shirts while wandering around the local mall, and washing down feelings of insecurity with a sugary strawberry-banana smoothie. Ah, the good old days.
So the drinks haven't always been stellar in terms of nutritional content, but Jamba has been jumping on the real food train a little bit more these days. Of course, my favorite addition to come out of that evolution is the Pumpkin Protein Smoothie, a seasonal treat that I happened upon by accident (okay, it was a birthday freebie).
In any case, smoothie chains are great for a quick fix, but like most fast food choices, you don't always have visibility into the laundry list of ingredients in each drink. That's where a quick and easy homemade option comes in handy. You can scroll down to see the very short list of ingredients in my Leftover Pumpkin Pie Collagen Smoothie, but let me make it easy for you. This one just has frozen banana, pumpkin puree, almond milk, pumpkin pie spice, honey, and collagen. That's it! Wonderful, right?
the process
I hesitated to even add in a section explaining the process of making this Leftover Pumpkin Pie Collagen Smoothie because it's just so easy. But I'll give you a couple quick tips I've found helpful. For starters, don't worry about the level of sweetness you'll get from just one teaspoon of honey. The frozen banana adds more than enough sweetness to the smoothie that you might not even need the addition of honey. But the honey adds a nice little touch, regardless. Plus, I'm a big fan of honey, so you don't have to twist my arm on that one.
Secondly, if you're making one or two servings, use an immersion blender. As part of my "Edited Kitchen" philosophy, using a few simple ingredients and working with just a couple of small tools or appliances is always preferable. You'll end up with fewer dishes and a stress-free, easy meal. And that's all, folks. This Leftover Pumpkin Pie Collagen Smoothie is a delicious, nourishing meal or post-workout snack that you'll want to come back to whenever you have a little extra pumpkin in your fridge.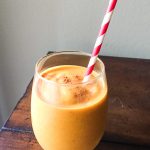 Leftover Pumpkin Pie Collagen Smoothie
Servings
1
large smoothie
Ingredients
1/2

cup

unsweetened almond milk

preferably carageenan free/organic if you can swing it

1/2

cup

canned pumpkin

or fresh pumpkin puree if you're more ambitious than me

2

tbsp

collagen hydrolysate

I use Great Lakes brand

1

tsp

pumpkin pie spice

1

frozen banana

1

tsp

honey
Instructions
Add all ingredients to your blender of choice (I used an immersion blender)

Blend on high speed for 30 seconds or until smooth

Serve in a glass and top with additional pumpkin pie spice or cinnamon (you can also add coconut whipped cream on top for an extra treat)

That's it!