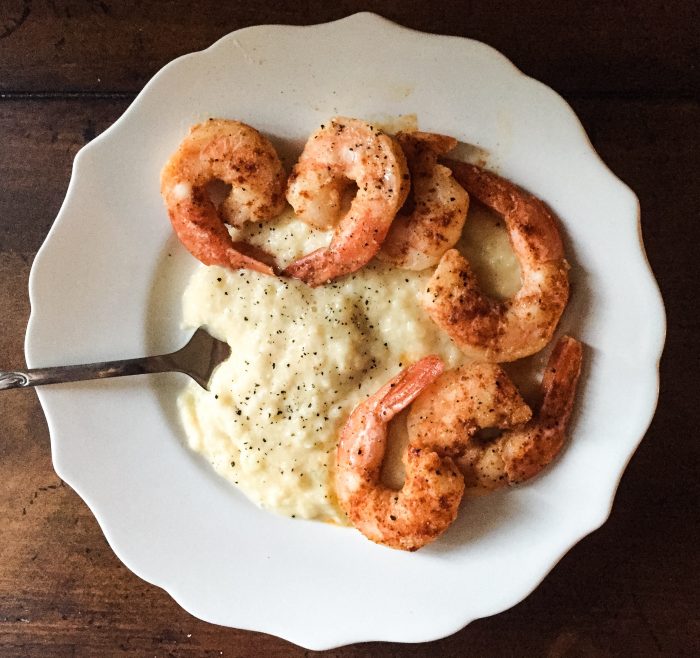 Lemon Paprika Shrimp and Cheesy Cauliflower Grits
There's something quite magical about the South. My experience in the South comes down to a handful of days in a handful of states during a cross-country road trip several years ago, but it left me with a serious case of infatuation for the food, the feelings, the people. Just not the weather. Let's be real, my coarse California blonde hair is not a match for that humidity.
I spent one steamy summer day in Charleston during the middle of that road trip, and ate lunch in an air-conditioned restaurant in Downtown Charleston.  I don't remember the restaurant's name or location, but I can tell you I had some pretty delicious shrimp and grits while I was there (what else would I get?). And five years later, it's the inspiration behind this grain-free and corn-free take on the iconic Southern comfort food: Lemon Paprika Shrimp and Cheesy Cauliflower Grits.
Truth be told, I'm not typically a big fan of faux cauliflower-type foods. I made homemade cauliflower rice once (let's just call it the cauliflower rice snowstorm of 2014), and even after cleaning up the food processor mess, it was not that tasty. Because at the end of the day, cauliflower is not rice, pizza crust or bread. It can be a healthy substitute, but it's still cauliflower.
But these Cheesy Cauliflower Grits are something special. It turns out cauliflower rice really lends itself to the creamy, porridge-like texture of grits, especially when you add a little butter and cheese to the mix. And it gets even better when you pair them with the citrusy Lemon Paprika Shrimp. Next stop: Charleston.
the process
For something that looks impressively culinary, this Lemon Paprika Shrimp and Cheesy Cauliflower Grits is surprisingly simple and quick to make.
Start with the grits, because shrimp is one of the quickest proteins to cook.
The process for making these cheesy cauliflower grits is pretty darn similar to the process of making real grits. You start with a little chicken stock, simmer the cauliflower, a couple garlic cloves and stock together for about 10 minutes, and then take it off the heat and stir in the butter, cheese and a little cream. No, it's not dairy free by any accounts. But if you can tolerate cheese (and cream and butter), this is the place to give yourself a little treat. Especially because you're balancing it out with all that good-for-you cauliflower. Right? Right.
I think there are plenty of people who don't realize how simple it is to make shrimp. I definitely didn't before I made it for the first time. Turns out you can have some seriously tasty shrimp on your plate in less than 10 minutes, and that's being conservative. Truth be told, they take about five to six minutes to cook fully, and seasoning requires a few ingredients you probably already have: lemon, paprika, butter, garlic powder, and salt and pepper. That's it. And the best part of cooking shrimp is that there's not much guessing when it comes to knowing when they're cooked fully. They turn pink.
With all that said, this is one of the easiest dishes you can make, so you might as well add some Southern comfort food to your repertoire.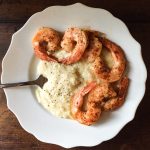 Lemon Paprika Shrimp and Cheesy Cauliflower Grits
Ingredients
For Lemon Paprika Shrimp
1

lb

raw shrimp

deveined and cleaned, with shells

1

tbsp

butter

1

tbsp

paprika

1

tsp

garlic powder

Salt and papper

to taste

1

lemon
For Cheesy Cauliflower Grits
2

cups

cauliflower rice

fresh or frozen is fine

1

cup

chicken broth or stock

2

garlic cloves

minced

Salt and pepper

to taste

1

tbsp

butter

2

tbsp

heavy cream

1/2

cup

grated cheddar cheese

or cheddar and jack blend

1/2

cup

grated asiago cheese
Instructions
Make cauliflower grits, by adding chicken broth, garlic, salt and pepper, and cauliflower rice to a small saucepan; simmer over medium heat, then reduce heat and cover

Cook for about 10 minutes until it reaches a porridge consistency, then drain excess liquid

Remove saucepan from heat and add in butter, heavy cream, and cheese

Top with fresh ground pepper

When grits are nearly finished, add a tablespoon of butter to a medium-sized nonstick pan and add shrimp to pan

Season shrimp with salt, pepper, garlic powder, and paprika, and cook on one side for 3 minutes

Flip shrimp and season other side. Add juice from one lemon to pan and finish sautéing for 2 minutes (until shrimp are completely pink)

Serve shrimp on top of grits or on the side