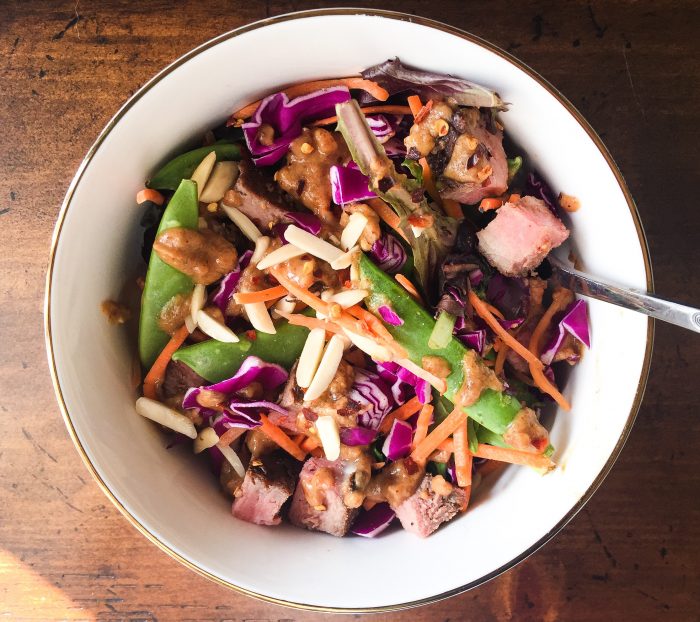 Paleo Sweet and Spicy Asian Steak Salad
Paleo Sweet and Spicy Asian Steak Salad is the answer to the perpetual question, "We're having chicken again?" With an Asian-inspired tangy almond butter vinaigrette, lots of crunchy colorful vegetables and juicy steak, you really can't go wrong with this one. That isn't to say there's something wrong with a little routine in your life. Believe me, I often the eat the same or similar foods every single day, and don't have a problem with it or feel like I'm missing out. I find simple joy in sticking to an uncomplicated routine. But there's also something to be said for mixing it up and playing with flavors in what you cook and eat.
That's why this Paleo Sweet and Spicy Asian Steak Salad is so delightful. It brings a bunch of unique Asian flavors to your weeknight dinner (or your meal prep for the week) in an approachable and simple way, and it's also grain-free and refined-sugar free. I'm always in favor of mixing up my routine without overcomplicating it. I meal prep salads nearly every week, and even though this one is completely different in terms of taste, it does not stray far from what I usually make ahead of time. I've just changed up some of the vegetables, the protein and the vinaigrette.
What truly brings this salad together is the Tangy Asian Almond Butter Vinaigrette. I'm in love with this homemade dressing and want to drizzle it over everything. Plus, it beat the "spoonful test," which is the highly professional tasting test I've developed. Here's how it works: If the sauce, dressing, or nut butter is delicious and addictive enough to eat straight out of the jar by the spoonful, then it passes the test.
For the vinaigrette, I recommend using Justin's classic almond butter. Let me tell you, I've had a lot of almond butters in my day, and this one has the perfect texture and taste. Bonus points for not having to stir it. Plus, you want to steer clear of one that has added sugars or salt. When you include fish sauce and coconut aminos in anything, it's a pretty safe bet that you can put the salt shaker away. Those ingredients are pretty darn salty in themselves, so make sure you're balancing your recipe out with non-salty foods.
the process
I've already dug into the vinaigrette and flavors of this Paleo Sweet and Spicy Asian Steak Salad a little bit, so I'd like to talk about a cooking technique that may be one of the most important to master: Cooking steak. Vegetarians and vegans, cover your ears. For the most part, I defer to the many professional chefs ahead of me who have outlined the process in a more thorough and thoughtful way. But in case you just want to read the edited, quick-and-dirty version, here's what I do:
Get a cast iron pan and a meat thermometer. Choose your steak (for this salad, I've used both New York steak and skirt steak). Heat some avocado oil up in the pan until it gets super hot. Dry your steak off with paper towels and add salt and pepper to both sides. Then drop it in the pan and wait for the sizzle. Cook the skirt steak for 2 minutes on one side and 1 1/2 minutes on the other; for New York, cook it on each side for about 5 minutes, and cook it through until it reaches about 125 degrees Fahrenheit in the center. For both steaks, fold them up in foil and let them rest for at least 5 minutes. Congratulations, you've just made STEAK.
The assembly of this salad is pretty easy. You simply want to layer your greens and crunchy veggies on top of each other, and then top with the steak and vinaigrette. Then, you can incorporate everything together and finish with some slivered almonds. I really love this salad, and I hope you do too.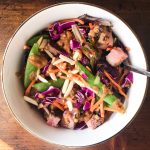 Paleo Sweet and Spicy Asian Steak Salad
Ingredients
For the salad
1

New York steak

Salt and pepper

1

tbsp

avocado oil

or other high-heat oil

2

cups

mixed greens

2

cups

red cabbage

chopped

1/2

cup

snap peas

1/3

cup

shredded carrots

1/4

cup

slivered or sliced almonds
For the Tangy Asian Almond Butter Vinaigrette
1/2

cup

olive oil

1 1/2

tbsp

Justin's Classic Almond Butter

1

tsp

coconut aminos

1

tbsp

rice vinegar

1/2

tsp

fish sauce

1/2

tsp

crushed red pepper

1-2

cloves

garlic

crushed or minced

Juice from one lime
Instructions
Dry steak off with paper towels and add salt and pepper to both sides

Heat avocado oil up in the pan until it starts sizzling or lightly smoking

Add steak to pan and cook it on each side for about 4-5 minutes, until it reaches about 125 degrees Fahrenheit in the center

Once it's done, add to foil and rest for at least 5 minutes

When steak is done resting, slice into medium-sized pieces for salad

To make vinaigrette, add all ingredients to a small bowl and whisk together until it reaches a smooth consistency

Assemble salad with mixed greens, cabbage, all veggies and steak

Top salad with vinaigrette and slivered or sliced almonds