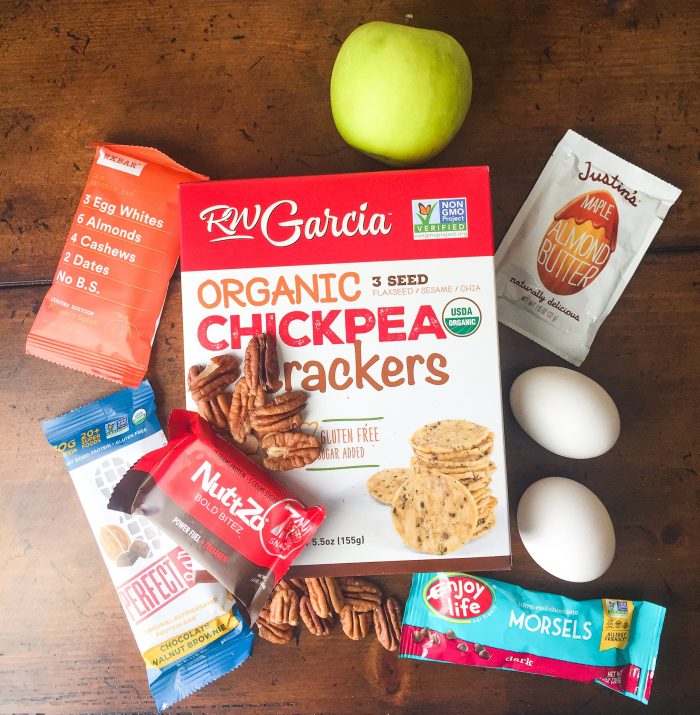 Edited Kitchen: Gluten-Free and Paleo Snack Round-Up
Oh, snacks. It seems that people are either pro-snack or anti-snack these days, and I'd like to add a middle-of-the-road opinion here. Because the truth is, life is CRAZY and sometimes you want a little pick-me-up when 3:00 PM hits during a busy day. Should you snack every day? Probably not. Can excessive snacking become a crutch to an otherwise healthy lifestyle? Sure. But are snacks the end of the world? Nope. And if you want a snack and are choosing a healthier option, by all means (in the words of Weird Al), just eat it. So with that in mind, I present the Edited Kitchen Gluten-Free and Paleo Snack Round-Up.
But first, a question.
What's your motivation for snacking?
First off, I'm not here to tell you whether snacking is great or not-so-great for you. I'm here to give you my thoughts, share a few strategies I've learned along the way, and provide a few clean (and tasty) options if you are a snack advocate.
If you're genuinely interested in figuring out whether snacking is right for you, it might be helpful to ask what your motivation for snacking is. If it's boredom or stress, you may want to try taking a break from snacks.  If you feel hungry all the time and are looking to fill that void with snacks, it might be time to evaluate your regular meals (i.e., breakfast, lunch, and dinner). Are you eating enough protein and nutrient-dense foods that will get you through that mid-afternoon slump or late night cravings? Make sure that your meals are providing enough sustenance so that you're not turning to snacks as a way to fill the void.
Ingredients to look for
Once you've figured out why you eat snacks, you'll want to choose what to eat. I approach my snacks similar to how I approach meals. First and foremost, start with a protein base. That means even if you love a good gluten-free cracker (I sure do!), it's a good idea to pair it with some protein, like cold cuts (without added sugar or additives), a tablespoon of almond butter or nut butter (I recommend Justin's, always), or a piece of cheese (if you do dairy). Protein is significantly more filling than carbs and sustains your energy longer, so pairing a carb with some protein is key.
Second, look for snacks with the fewest ingredients. This is one of the principles I stand by across my Edited Kitchen blog, and I'd recommend that if you don't do anything else, follow this principle when you can. It's not easy, because there are many tasty snacks (even gluten-free options) with lots of added sugar and other ingredients. Choose snacks that are low in sugar, include primarily natural ingredients and aren't chock full of bad oils or unnecessary additives. Want a few suggestions? Read below for my Gluten-Free and Paleo Snack Round-Up. This is not sponsored, I just genuinely like all of these snacks.
Top three gluten-free crackers
Oh, I love a good gluten-free or paleo cracker. So here are my top picks for clean, mean, crunchy and tasty crackers:
Simple Mills: I love that we live in a world where grain-free crackers exist. And Simple Mills is the best of the bunch. Made with almond flour, the plain Fine Ground Sea Salt version are my favorite. They have a crispy light texture and the perfect amount of salt and seasoning. When I discovered that Costco was selling a supersized box of them, I might've jumped for joy in the snack aisle.
RW Garcia: These were a discovery from Expo West this year, but I'm sure there are many of you who have already tried these delicious and nutrient-dense crackers. If you haven't, go with the Organic 3-Seed Crackers. The Organic Chickpea Crackers in particular are something special, with a short list of solid ingredients and a good crunch. They taste like a legit cracker and are pretty darn flavorful.
Mary's Gone Crackers: If you like a seedy, nutty cracker, Mary is your new best friend. When it comes to crackers, I'm a traditionalist, so I love the Original kind. I love these with a good dip like my Easy Goat Cheese Spinach-Artichoke Dip, because these are not the shrinking violets of the cracker aisle. They hold up SO well and are packed with flavor. And as a forever fan of puns, boy do I love that name.
Top three gluten-free snack and protein bars
Protein bars often become my lunch stand-ins, when I've had a busy week and don't have time to prep a meal. But I've found a couple that make a great snack option too (especially when they come in a mini version).
Nuttzo Bold BiteZ: This is a relatively new product that I've fallen head over heels for recently. If my go-to work salad is a little less substantial, I'll pack one of these guys and eat it for lunch. I love the size, the texture, and the fact that they have COLLAGEN in them. Plus, most Nuttzo products are peanut-free, which is a lovely thing if you have an allergy or just don't have a great relationship with legumes.
Perfect Bar: These are without a doubt, my favorite of the bunch of protein bars I've tried. All of them are packed with good ingredients (20+ superfoods, to be exact), like organic flaxseed oil, organic honey and lots of fruits and veggies that you're probably not eating on the regular anyway. But really, they just taste so delicious. My current favorite is the Chocolate Walnut Brownie, which tastes even better than the Little Debbie brownies I loved as a kid.
RX Bars: If you haven't heard of RX bars yet, you might be living under a rock. This easily checks off the box of "very few ingredients." And as a branding nerd, I love the fact that all of the ingredients are included in bold type on the front of the wrapper. Brilliant. But more importantly, they're filling and tasty. I have a special place in my heart for the seasonal Pumpkin Spice bar, and I probably have hoarded a few so that they last well into the summer.
Favorite "whole food"  snacks
While I love a good convenience food like a handful of crackers or a protein bar, there's something to be said about snacking on whole foods rather than relying on packaged options. I've mentioned the virtues of keeping "handy" protein in your fridge before, and I stand by it. You really can't go wrong with some clean cold cuts, cheese (if you do dairy) or hard-boiled eggs. And I'll add olives and nuts and nut butter to the conversation as well, because they're full of good fats and I have a personal addiction to all of those things.
All kidding aside, snacking doesn't have to be either a crutch or something to steer clear of entirely. Like anything else, balance and mindful eating are important. And with so many great options out there for gluten-free, grain-free, paleo, and keto lifestyles, snacks are looking a whole lot better than before.