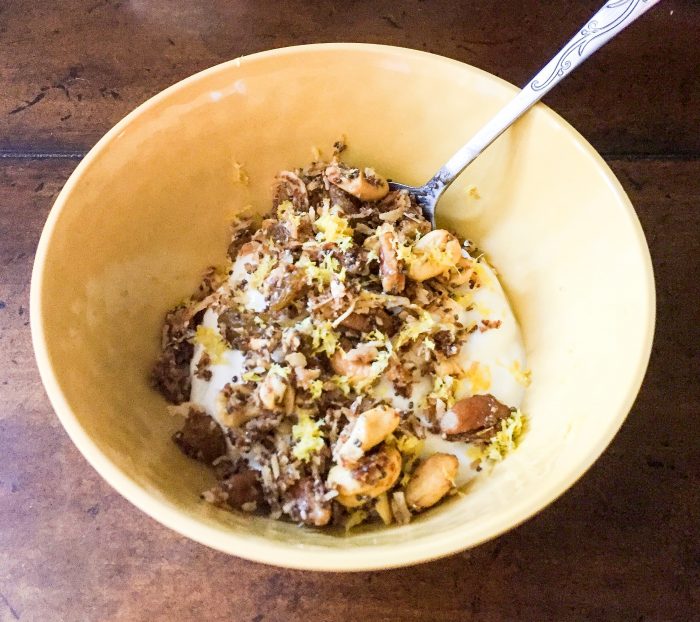 Paleo Lemon Pie Granola is sweet, salty, citrusy, and the BEST addition to your morning Greek or coconut yogurt or cottage cheese. And best of all, it's gluten-free, grain-free, dairy-free, and refined sugar-free. This could very well be the granola of your dreams.
Ok, I'm not going to say that it tastes *exactly* like eating a piece of freshly baked lemon pie. But there's something so deliciously decadent about this Paleo Lemon Pie Granola that makes me feel a little bit indulgent when I eat this for breakfast. And sometimes we all need a little decadence and deliciousness in the morning. Especially Monday morning.
Lemon desserts have always held a special place in my heart, and lemon anything is the rule of thumb in my kitchen (I'm pretty sure one of my produce drawers is devoted exclusively to lemons). So whatever your thoughts are on lemon sweet treats, you have to give it to lemon: it's an incredibly versatile ingredient that amplifies pretty much any dish.
And not only is this morning "dessert" free of grains and refined sugar, it's also chock full of healthy ingredients, like chia seeds and ground flaxseed. It's pretty much an Omega-3 powerhouse. You might owe it to yourself to make this granola a part of your morning routine.
the process
In general, making your own granola is incredibly easy and completely customizable. I'm pretty sure I've created granola strictly out of leftover seeds and nuts that I wanted to clean out of my cabinet (see point #5 of my 5 Tips for Pantry Organization). So you can go by-the-book and use all the ingredients I've outlined below, or you can mix and match based on what you have. Personally though, I think the cashew and pecan combination gives it that sweet, pie-like taste that makes this granola pretty special.
For Paleo Lemon Pie Granola, the only thing you absolutely need is the lemon, coconut oil, vanilla and coconut sugar combo to act as a bit of a binder and give it that sweet lemon pie flavor. Otherwise, it's really just trail mix.
Baking granola can be a little tricky. Either bake it low and slow for a crunchy slow-baked texture, or if you're short on time or a bit impatient (raises hand), bake at medium heat for a brief amount of time. After it cools, put it in a glass container and refrigerate overnight. Since one of the binding ingredients is coconut oil, you'll get a harder, crunchier texture after refrigerating for a bit. And we can all agree that this is way better than chewy or overbaked granola.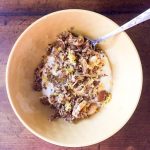 Paleo Lemon Pie Granola
Ingredients
1

cup

cashew pieces

or roughly chopped cashews

1

cup

pecan pieces

or roughly chopped pecans

1

cup

shredded coconut

1/3

cup

golden raisins

1/4

cup

chia seeds

1/4

cup

ground flax

I like Bob's Red Mill flaxseed meal

1/2

tsp

salt

Lemon zest

to mix in after baking
Wet ingredients
1/3

cup

coconut oil

melted

1/2

tsp

vanilla

Juice from 2 large lemons

1/4

cup

coconut sugar
Instructions
Preheat oven to 350 degrees Fahrenheit

Spray or grease a baking sheet or shallow casserole dish with coconut oil (you can also use parchment paper)

Mix together all dry ingredients (except lemon zest) in a medium-sized bowl

Stir together all wet ingredients and coconut sugar in a small bowl

Combine dry and wet ingredients, ensuring that the lemon/coconut oil/coconut sugar mixture is distributed evenly

Spoon mixture onto a baking sheet or into a shallow casserole dish

Bake granola for 15 minutes

Once the granola is out of the oven and cooled, add lemon zest if desired and refrigerate in an airtight glass jar or container
[amazon_link asins='B000QSS260,B00AQFGL3O,B01GXPRNVO,B019F0771A,B005JD0JKO' template='ProductGrid' store='edited0e-20′ marketplace='US' link_id='8f0903c2-5324-11e7-a4f4-a5095487ce92′]