Sausage, Tomato, & Mixed Greens Breakfast Skillet
This Sausage, Tomato, & Mixed Greens Breakfast Skillet may be a breakfast recipe, but I am not above having it for lunch or dinner. Honestly, my ideal three-meals-a-day are breakfast, brunch, and breakfast for dinner. But I'm pretty sure a well-rounded diet doesn't necessarily include eggs and bacon for every meal, so I'll postpone that idea for now.
All that to say, I'm in love with this Sausage, Tomato, & Mixed Greens Breakfast Skillet. Because it's so darn good, has a good amount of healthy greens in it, and is super quick and easy to make. Plus, it's incredibly versatile. You could make it with any kind of sausage (e.g., turkey, chicken, pork, or boar), switch out the greens, and add a different veggie if you'd like. I recommend using some kind of pork, but I won't judge you if you're more of a turkey sausage kind of person. Ok, I might judge you a little bit.
the process
While I've never made a legit ratatouille before, I'm somewhat familiar with the process…and not just because I've seen the movie with the cartoon rat. The process for making this Sausage, Tomato, & Mixed Greens Breakfast Skillet is a little bit similar in that you cook each ingredient for a couple minutes and then add the next one. While it's nice to make meals that involve throwing everything into one pot (like with my beloved Instant Pot), for this particular recipe, the flavor really develops when you add everything in steps.
Whether you choose to make this skillet exactly like I did or not, you'll definitely want to cook your sausage first in order to render the fat that you'll cook the veggies in. This makes a world of difference in terms of flavor. (As I've said before, don't be afraid of fat. But, if you're sausage is a little fattier, feel free to drain part of the oil before adding the veggies.)
Another key to this recipe is the fennel seeds. Fennel seeds and sausage are one of the happiest food marriages in my opinion, and even if your sausage already includes them, adding a few more to the mix really highlights the savory "sausageness" of this dish.
Even with the incremental "ratatouille" style cooking, this recipe takes very little time and should be good to go in less than a half hour. And that is always a good thing, whether you're having it for breakfast, brunch, or breakfast for dinner.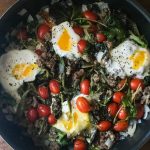 Sausage, Tomato, & Mixed Greens Breakfast Skillet
Ingredients
12

ounces

pork sausage

ground, with casings removed

1/2

large onion

diced

1

cup

grape tomatoes

3

cups

organic mixed greens

or spinach

1

tbsp

dried fennel seed

Salt & pepper to taste

1

large lemon

4

eggs
Instructions
Cook sausage in a large skillet over Medium heat until fat begins to render

Once fat is rendered, push to one side, and add diced onion

Cook onion for 2-3 minutes, until onions begin to "sweat"

Next, add tomatoes and incorporate with sausage and onion; cook for 2-3 minutes

Add mixed greens on top until they begin to wilt, and then mix in with previous ingredients

Add fennel seed, salt and pepper, and the lemon juice, and cook over low heat for about 5 minutes, stirring occasionally

Once sausage and veggies are cooked, crack eggs on top of the greens, sausage, and tomatoes mixture

Cover pan and allow eggs to cook for 3-4 minutes

Uncover skillet and finish with a little salt and pepper on top of the eggs