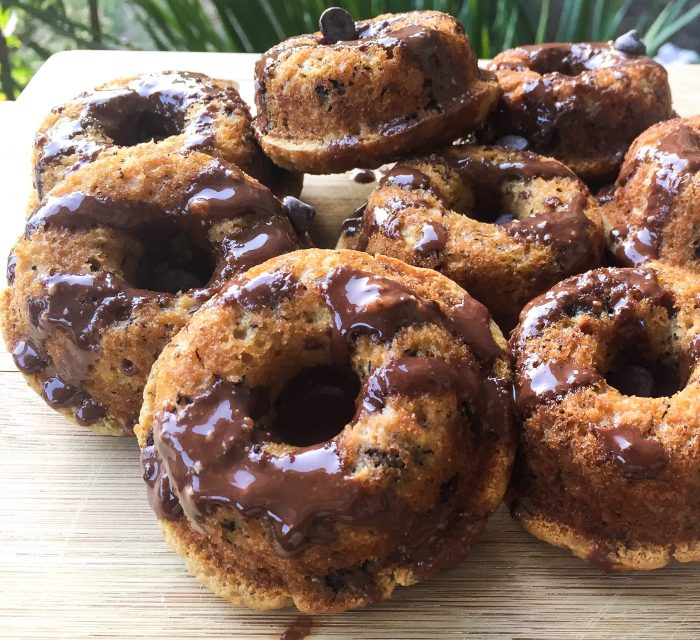 Peanut Butter and Banana Paleo Pancake Doughnuts
Peanut butter. Banana. Chocolate chips.
Now that I have your attention, let me add that these tasty Peanut Butter and Banana Paleo Pancake Doughnuts are also grain- and gluten-free, refined sugar-free, dairy free, and ridiculously easy to make (they use Birch Benders Paleo Pancake Mix instead of regular flour). Yeah, I'm pretty sold on these tasty treats.
Doughnuts are my all-time favorite sweet treat. Yes, even beating out cake, pie, cookies, and ice cream (though that one is a narrow margin). They're portable, sweet but not too sweet (in most cases), not overly heavy, and absolutely delicious. Best of all, doughnuts are the only dessert-type food you can get away with eating for breakfast. Mr. or Ms. Doughnut Inventor, you were brilliant.
I could go on for an embarrassingly long time about how much I love doughnuts, but I'll restrain myself for now. Let's just get to the heart of this fabulous, less-than-20-minute, "shortcut" recipe that only requires a handful of ingredients and a doughnut pan. Say hello to Peanut Butter and Banana Paleo Pancake Doughnuts.
the process
Like my Paleo Lemon Poppy Seed Pancake Muffins, this easy one-bowl recipe uses Birch Benders Paleo Pancake Mix as its starring ingredient. That makes life a whole lot easier, because you don't need to go scavenging for a million specialty flours before you bake. I've become a "shortcut baker" these days, and if you haven't jumped on board with the idea of using mixes, here's my pitch. It saves a whole lot of time and exasperation when you have something that's pre-measured and ready for you to use as you please. I love the creative aspect of cooking and baking, but "creative baking" is not the easiest task when you have to figure out measurements and ratios.
Plus, with so many gluten-free and grain-free baking options these days, you don't need to surrender yourself to a cake mix with 75 indistinguishable ingredients in it. With that said, these doughnuts are pretty darn squeaky clean, not only because of the mix, but because there's no refined sugar in them (thanks to one of my personal favorites – Lily's Dark Chocolate Baking Chips). Who doesn't love a treat you can feel good about?
The process for making the doughnuts and glaze is so very simple. The doughnut "batter" comes together pretty easily in one bowl, no mixer required. The texture of the batter should be pretty thick (almost as thick as cookie dough) and smooth, with all of the ingredients thoroughly combined. And the glaze is even easier. I melt everything together in a small dish in my microwave and stir it in 20 second increments. Since it's just a small amount of glaze, it typically melts in less than a minute.
Once you've finished making these Peanut Butter and Banana Paleo Pancake Doughnuts, you can store them in the fridge for up to a week. But frankly, I don't think they'll last that long.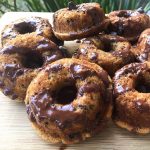 Peanut Butter and Banana Paleo Pancake Doughnuts
Servings
12
mini doughnuts
Ingredients
For Doughnuts
1

cup

Birch Benders Paleo Pancake Mix

1/2

cup

unsweetened almond or coconut milk

1/3

cup

creamy peanut butter

1

ripened or slightly overripe banana

1/2

tsp

vanilla extract

1

tsp

baking soda

1/4

cup

Lily's Dark Chocolate Baking Chips or variety of your choice
For PB and Chocolate Glaze
2

tbsp

Lily's Dark Chocolate Baking Chips or variety of your choice

1

tbsp

peanut butter

1/2

tbsp

coconut oil
Instructions
Preheat oven to 350 degrees Fahrenheit and spray a

mini doughnut pan

with coconut oil spray

Stir together all ingredients, except the chocolate chips until thoroughly combined and smooth

Mix in chocolate chips

Spoon into doughnut pan and bake for 15 minutes, until they appear golden brown and slightly crisp on top

While doughnuts are baking, make the glaze

Melt together chocolate chips, peanut butter and coconut oil in 20 second increments in the microwave, stirring until smooth

When doughnuts are completely cool, use a spoon to drizzle glaze over the tops of the doughnuts and place in fridge to set