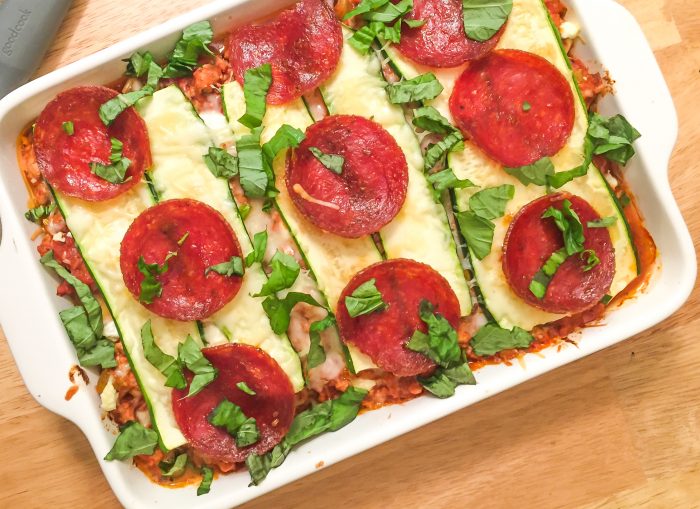 Grain-Free Zucchini Pizza Casserole
If you can believe it, I was inspired to make this Grain-Free Zucchini Pizza Casserole on a national holiday. National Pizza Day, to be exact.
All "recently invented" food holidays aside, I LOVE creating healthy spins on pizza. And I really think it deserves it's own category on the Edited Kitchen at this point. I've made Baked Margherita Pizza Eggs, Supreme Pizza Salad, and Pepperoni Pizza Chicken, so you better believe I was going to make a super-healthy pizza casserole. I'm pretty proud of this one. Mainly because it's just so darn delicious and so easy to throw together on a Friday night (Pizza Friday!). It's also grain-free, gluten-free, low-carb, and made with completely clean ingredients. This is healthy pizza perfection.
It's important to celebrate and enjoy food in a way that's not detrimental to your health. If grains and gluten make you feel lousy after you eat them, don't eat them. You don't have to bemoan the fact that you can't indulge in a slice of delivery pizza anymore. Life is too short to be sad about that. Instead, make yourself this veggie-filled, high-protein, SUPER flavorful zucchini pizza casserole, and call it a day. Even if you can do gluten and grains, I'd still say to give this healthy option a whirl. I promise you'll feel better. And if you're still sad about skipping the delivery pizza, I'll give you a hug. Because I get that, too.
the process
Like any good casserole,Grain-Free Zucchini Pizza Casserole involves a couple steps and little bit of layering, but don't let that scare you off. It's still incredibly easy and comes together in a flash. First, you want to make the ground turkey (or beef) mixture – which is like any basic Italian meat sauce. And it is definitely not difficult to make.
Now, I hesitated to give this suggestion because it's so darn easy. But if you really can't bear the thought of making your own sauce (and you have 15 minutes less than this recipe calls for), just brown the turkey meat and add in a clean ingredient-based jar of marinara or pizza sauce instead of all the spices and tomatoes. While meat sauce is incredibly easy to make in a pinch, I can see why you might want to shave a few minutes off of your dinner prep.
For the casserole layers, start with the zucchini strips, then add the meat sauce, a handful of goat cheese, and shredded parmesan blend). For the last layer, end with zucchini, parmesan and pepperoni. This step is crucial for that pizza-like finish. That's right. I said "pizza-like finish" because that's why you're making this casserole, right? Once it's been baked and is ready to go, top with fresh basil and cut into slices with a pizza cutter. Because you can.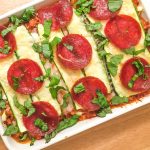 Grain-Free Zucchini Pizza Casserole
Ingredients
4

large zucchini

sliced into thin, flat strips

1

pound

ground turkey

or ground beef

1

tbsp

olive oil

1

small red onion

diced

3

garlic cloves

smashed or minced

1

can diced tomatoes

1

can tomato sauce

3

tbsp

tomato paste

2

tbsp

dried basil

2

tbsp

dried oregano

1

tbsp

fennel seed

1

tbsp

garlic powder

Salt and pepper

1/2

cup

goat cheese

1

cup

shredded parmesan

1/2

cup

chopped basil

6-8

pepperoni slices

no nitrates or additives if possible
Instructions
Preheat oven to 350 degrees fahrenheit

In a large pan, saute onion and garlic together with olive oil and add ground turkey or beef. Cook meat until mostly done.

Mix in diced tomatoes, tomato sauce, tomato paste. Stir in dried basil, oregano, fennel seed, and oregano

Cook meat sauce mixture for about 10 minutes, until ingredients are melded together nicely

In a medium-sized casserole dish, add a layer of zucchini, ground meat and tomato mixture, then add crumbled goat cheese and parmesan. Add another layer of zucchini, turkey mixture, and cheese. Finish top layer with another layer of zucchini and top with remaining parmesan, and pepperoni slices

Bake for 30 minutes

Finish with fresh basil on top